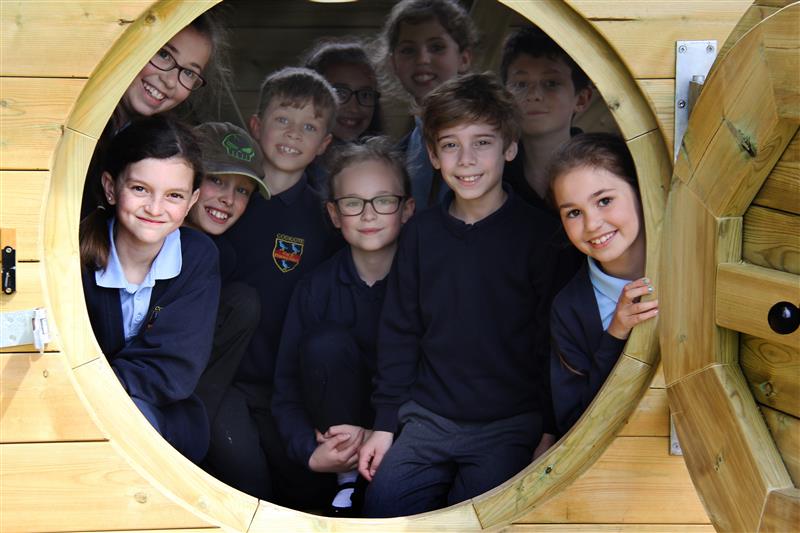 Exciting new playground additions to promote physical activity and inspire creativity!
It was Sam Flatman who initially met with head teacher Liz Pollard to discuss the different options available of how we could potentially develop their outdoor space.
They have a wonderful open grassed space, but unfortunately had very little outdoor resources for the children to engage with. So, we wanted to make sure we would work with Liz and Codicote primary to provide them with equipment that would target the developmental areas they wanted to promote, with the money they had available.
We first worked with Codicote Primary to provide them with a Zip Wire and Trim Trail Equipment. This was chosen to further expand on what active play resources they already had installed.
We wanted to truly enhance the physical developmental opportunities they could provide for their children; these resources not only provide fantastic active play benefits but also implement the strong importance of turn taking, with the trim trail leading directly onto the Zip Wire.
Along with being an extremely exciting playground resource, our Zip Wires work fantastically for improving children's fine motor skills such as the tightness of their grip and aids the development of children's core body strength. Children will need to hold themselves tightly against the seat with the variation in speeds and stability that will occur when using the zip wire.
This area is a really fun challenge, how do you safely play on it?
"We keep the seat of the zip wire locked up and then it is used only when there is an adult on duty. We only let the KS2 children play on it (because you need to be big enough and strong enough to hold on.) We then let one class on it at a time, line them up nicely and we have even done our own risk assessment so we know what to do (hold on tight, and not walk/run around the area of the zip wire)".
The most recent phase working with Codicote primary was to add a resource that would offer something new, an area where children would benefit differently and could learn a new array of skills that they might not have experience before.
It was decided to install The Burrow, this is an open-ended outdoor playhouse that would be used to inspire and engage children during creative playground activities and play times.
With the small round door and curvature of the roof, children will love to play and be involved in a resource that should be completely different to them and offer a new array of ideas and inspiration to work off.
Children will use the Burrow as a space for inspiration and transportation to all different kinds of imaginative worlds; using the portal holes as lookouts to see out onto these creative settings and worlds.
Headteacher
Liz Pollard had this to say about The Burrow:
What sort of things do you (children) enjoy doing in the Burrow? – "Making up games, pretend worlds, an island in the sea. A space to do some reading and writing and a space for reflection. 'In the winter, we hope to use it to watch the football – even on a cold wet day!"
How has it changed play?
–
"It's given the school a space to use in the summer as a playhouse and in the winter as a refuge!"
What are your favourite bits?
"The door is big and sturdy, we love the shape – just like in the book! The bubble windows are fun and make the internal space seem cosy but also light and inviting".
"We've used Pentagon Play before and have had nothing but a great experience, we are very happy to actively refer your company to other schools when they ask us!"
Are you looking to transform your playground environment? Simply fill out our Contact Form and we will be in touch to book a free consultation.