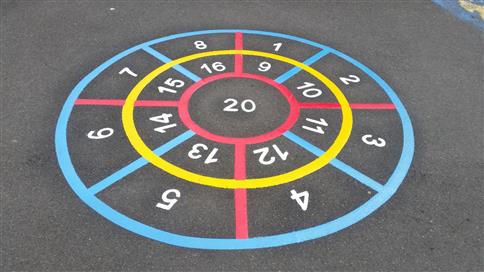 Outline Bullseye Target
Our product code: P-SL-PM-0BT
The thermoplastic outline bullseye target is perfect to introduce into any playground environment, being aesthetically pleasing to any child. The outline target can be used to play multiple types of games or even to incorporate maths into an outdoor learning environment. Children can use bean bags to select numbers to use to resolve number problems, or they can be used to see who can throw and score highest. This type of marking is perfect to develop hand-eye coordination.
---
Technical Details
Size (Dia.): Ø2M
Colour: Assorted colours
Outline colour design
Thermoplastic
Associated Documents
Please contact us for further information.
Guarantees

Playground Markings