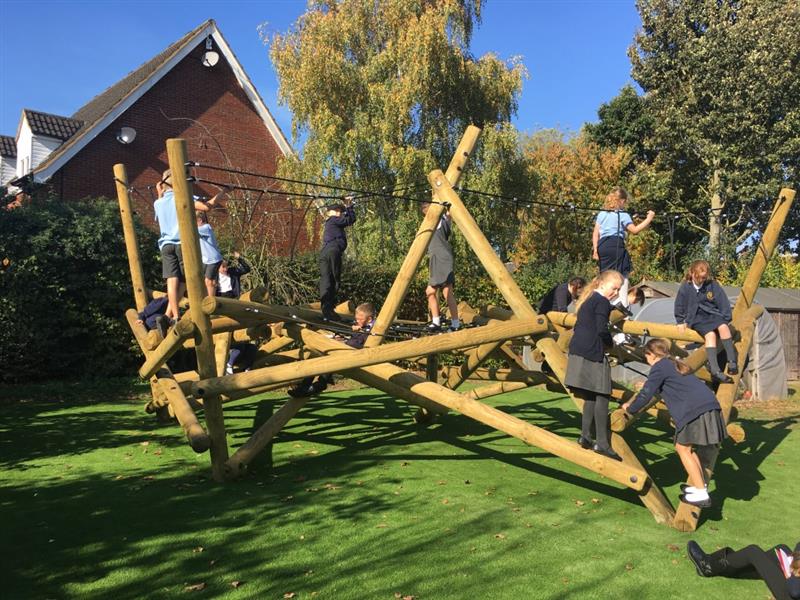 Our Largest Climbing Frame at Kelsale Primary School
Our Playground Consultant, Marian McCall, communicated with Kelsale CEVC Primary School to discuss plans to renovate their old-fashioned outdoor play area into a new adventure playground for the children to enjoy.
This project was a real community effort and it was a great pleasure for us to be a part of it. The playground renovation was funded through a £10,000 lottery grant and an additional £10,000, which was raised from fetes and other fundraising events by the supporters of the school.
They also ensured that the ground was dug and prepared prior to installation.
The money saved from the preparation subsidised Kelsale's innovative and large covered sandbox, which was provided and fitted by us.
The Crinkle Crags Climbing Frame
After the initial briefing, we installed our entertaining and challenging Crinkle Crags Climbing Frame positioned on top of vibrant, all-weather Artificial Grass Surfacing. It is Pentagon's prime and most stimulating climber, offering various crossing and traversing points.
With no specific starting and end points on the climbing frame, it offers children the flexibility to enter where they are most comfortable.
As their self-confidence progresses, they can adjust their play and make it more challenging accordingly.
After frequent use, children will not only see improvements in their overall physical strength, climbing skills and coordination, but their communication skills amongst peers will advance too.
The Crinkle Crags Climbing Frame encourages group play and delivers positive reinforcement and helps to build self-assurance too.
This inclusive and handy play equipment allows children who wish to take a break from active play to relax underneath the frame, use their imagination and make dens too.
We continually prioritise safety, so the Crinkle Crags Climbing Frame is made of pressure treated 'play grade' timber and steel reinforced nylon ropes.
The addition of an impact-absorbing shock pad layer allows the children to appreciate their fresh and amusing playground all year round, whilst reducing the risk of injury.
The school use this on a class rotation basis to limit the amount of congestion on the playground too.
We've had some amazing feedback from the headteacher and pupils at Kelsale CEVC Primary School.
'I am really excited to have such a fantastic facility for the pupils and hope that they enjoy many hours playing on it.' - Mrs Taylor, Kelsale Primary School's Headteacher
The enthusiastic children are having so much fun and are really enjoying their fresh and amusing adventure playground. 'It is awesome! We really enjoy playing on it and it has made playtime more fun.' An eager Year 6 pupil.
At Pentagon, we aim to deliver playgrounds that inspire the growth and development of children not only in the physical sense, but by supporting lifelong learning and the overall curriculum. If you are looking to update your playground into a zone to prepare children for future success, please Contact Us for free advice and a consultation.