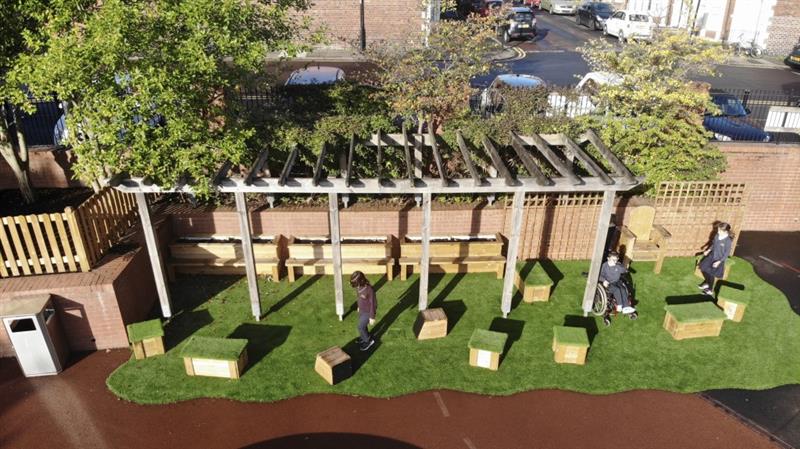 Bringing The Harmony Of Nature To The School Playground
Greg Gavin, our excellent North East Playground Consultant, was proud to have been asked to work with assistant headteacher Tom Jones, Year 5 teacher Gemma Jordan, and a fantastic group of children at West Jesmond Primary School in Newcastle Upon Tyne, to help them fulfill a very special Memorial Garden Project.
They wanted to create a Memorial Garden within their urban school grounds, in memory of a much-loved teacher, Deborah Hainsworth, who sadly passed away in September 2017.
Mrs Hainsworth was a hugely important part of West Jesmond Primary for over 20 years - firstly as a parent, and then later as a member of staff.
As well as teaching, she co-ordinated the school's Eco Group and helped them to achieve their Eco-Schools Green Flag accreditations.
In her memory, the school's wish was to transform a section of West Jesmond Primary's playground to create a calm, quiet, green space for the children to enjoy.
It would represent all the things that Mrs Hainsworth was so passionate about, particularly her environmental work, and support onsite science and eco-curriculum activities.
It was wonderful to have a group of keen children involved in the planning stages; to hear their views and see them involved in making the space their own. They had some fabulous ideas!
Vibrant and Weather-Proof Playground Surfacing
Our final design saw three individual garden zones running alongside each other along one stretch of the playground.
The first zone sits underneath the existing wooden pergola, which will create beautiful, welcome shade in the summer as the plants behind grow up and over it.
We installed our ever-popular Playturf Artificial Grass here - a vibrant, natural-looking, sensory playground surfacing option, which offers tactile interest for the children, and is soft enough to sit on.
It's a self-draining, all weather surface which is really easy to maintain, so there will be no issues with children accessing their garden all year round.
Immersive Outdoor Reading and Natural Discovery Space
We added two Trellis Screens to soften the brick wall. The children can use them for threading and weaving with ribbons and other materials for fine motor improvement, calming and creative outdoor artwork and adding a personal touch to the space.
Three Straight Planter Benches alongside can be filled with a selection of colourful and scented plants and herbs, so the children can plant their own sensory garden to relax in.
A Freestanding Storytelling Chair with a selection of Moveable Artificial Grass-Topped Seats and Drum Seats set the scene for social gathering: group discussions, PHSE, immersive outdoor reading, language and literacy development, and even a spot of music-making (ideal for active numeracy and rhythmic counting).
It's a flexible set-up so staff can move items around to suit outdoor learning activities.
Calm and Quiet Spaces For Reflection and Socialisation
Further along the playground and up the steps, is the second garden zone. This is a raised space with a view looking out over the rest of the playground. We added more Planter Benches and Weaving Panels for the children to personalise here, again set onto Artificial Grass, with gently curved pathways breaking up the surfacing.
In the centre of this zone, we installed an intriguing Hill Den with peep-through portholes. Its curved roof covered with Artificial Grass allows it to blend beautifully into the space, while adding a fun den-building focus for the children to play.
This zone flows through into the final raised, secluded area, hidden under the existing trees and enclosed by our natural Bow Top Timber Fencing.
Interactive Science and Natural Learning Resources
There's a new Bug Hotel with a rooftop garden hidden in here - a brilliant interactive science and nature learning resource, with individual removable pods that the children can fill with leaves, twigs and any other objects they can find to create a welcome habitat for visiting minibeasts.
We added timber Perch Benches here to create a parkland feel and built Sleeper Planters for more digging and growing.
The pupils have named this special place their "Secret Garden." It is a true green oasis of calm and tranquility, bringing the harmony of nature to West Jesmond Primary school's grounds - the perfect environment for children to sit and talk, read and play during break times.
They have some super ideas for personalising their garden with plants, bird boxes and wind chimes that they will design and maybe even make themselves. We can't wait to see how this develops over time!
Are you considering a special project for your school grounds? We can help you!
We have over 20 years' experience of designing and building outdoor learning environments for schools and nurseries.
You can see more of our projects in Newcastle Upon Tyne Here or view our full range of School Playground Equipment. Please do Contact Us for more information and to arrange a free, no-obligation consultation.