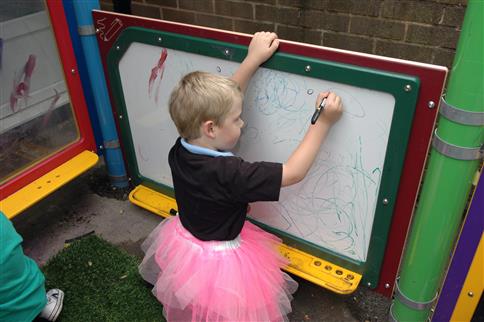 Dry Wipe Mark Making Panel - Large
This product is no longer available.
Please take a look at our latest Imaginative and Creative products here.
Our product code: P-IC-APP-DWMML
Children will find drawing and writing on our Dry Wipe Mark Making Panel relaxing, inspiring and fun. The fact the markings on the board are non-permanent, means children will have the fun of coming up with a new creation each day. A great resource to be used whilst theming outdoor learning environments as you will see how different children react to the theme through expression on our Mark Making Panel. Ideal for improving writing and drawing capabilities, developing in areas such as PSED and Literacy as well as boosting self-confidence and social interactions.
Technical Details
Associated Documents
Material Guarantees
Technical Details
Size (L x W x H): 1200mm x 140mm x 800mm
HDPE plastic panel
Includes:
Shelf
Dry wipe pens (x 4)
Associated Documents
Please contact us for further information.
Material Guarantees

Plastic Sheet