Our natural playground equipment will educate children about animals, 'mini beasts', plants and the importance of sustaining our environment. From Natural Play Areas to Outdoor Science Labs, children will combine their curiosity of nature with 'scientific thinking' as they investigate and learn outdoors together. It's time to create your own outdoor scientific experiments and connect your children with nature.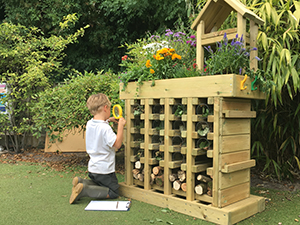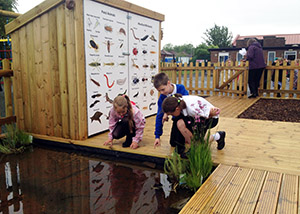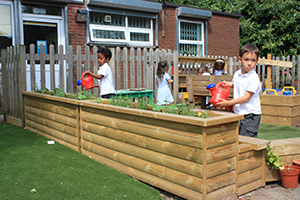 Enhance children's scientific knowledge outdoors

Nartural Playground Equipment that inspires children to conduct investigations

Our Wildlife Area will attract mini-beasts, birds and pond life

Children love growing different types of flowers and plants

Take science outside with our fantastic product range

Help children learn about the plant cycle in an engaging environment

Create the perfect home for mini-beasts with our Bug Hotel

Take a closer look at West Town Lane's Wildlife Area

Connect children with nature as much as possible
Natural Playground Equipment For Outdoor Investigative Learning
Mini bugs and minibeasts and everything that crawls. The spider spins her silky web, the centipede enthralls. Things with wings and things that squirm, munching through plants and petals all term. Our Natural Playground Equipment has room for each one - come on outdoors where learning is fun!
Not just happy havens for mini people - there are an astonishing 27,000 different types of insects (and goodness knows how many plants!) living in the UK - and your school grounds could be home to many of them! That is a lot of potential little loveable learning resources right there just waiting to be discovered!
Our beautiful range of Natural Playground Equipment, crafted from sustainably sourced redwood timber, has been designed to help you create gorgeous garden spaces in your school or nursery outdoor learning environments.
A secret garden, a sensory trail, a space for quiet reflection. A Bug Hotel, a Wildlife Zone to grow their plant collection. For digging and planting, growing and picking, dissecting and inspecting - for learning about lifecycles, plant reproduction, and the ecosystems we're affecting. Or maybe you just need a selection of Planters to brighten up the place - whatever it is that you're looking for, we can build it into your space!
Each of the products in our Natural Playground Equipment range can ideally be used to facilitate cross-curricular learning activities across all the areas of learning at EYFS, KS1 and KS2, encouraging children to discover and learn about the natural world around them through real life educational experiences.
Planting and caring for their own choice of plants in one of our spacious Planters, or filling their incredible interactive Bug Hotel pods with natural resources to create insect habitats - observing the effects of the changing seasons and weather conditions, and getting up close and personal with all the little pollinators that come to visit - there's no better way to learn than busy-bee hands-on!
We can install our Planters in all different sizes and at different heights for inclusive access, with a choice of built-in seating options to accommodate class groups for outdoor learning, or to provide a scenic spot to sit and enjoy enhanced outdoor reading experiences.
Find a flower, pick a plant - what do we have here? Check our curious creature charts to give you an idea! Our Walk-In Stores provide a handy place to keep gardening tools readily accessible throughout the year - they come with Nature Identification Charts for those that love to find out all the facts!
Gardening activities with our Natural Playground Equipment can be wonderfully calming and therapeutic. Create an ideal setting for PSED education or targeted and sensory learning activities for children with Special Education Needs. Promote positive social interactions and good mental health in your school grounds. We have everything you need to get your little green-fingered gardeners started!