Introducing The UK's Number 1
School Playground Specialist!
For the last 25 years, Pentagon Play have been designing, crafting, and installing outstanding playground facilities across the UK. These playground spaces are created to support learning through play, in line with the Primary School Curriculum, in schools and nurseries throughout the nation.
Whatever the size of your school or budget, we are happy to work with you to create a dream play space, catering to your pupil's needs and wishes!
Whether this be through our Design and Install service with our incredible playground consultants or via our Online Shop for freestanding items, Pentagon are there for you.
If you're looking for guidance or advice to improve your outdoor provision, we're here to help.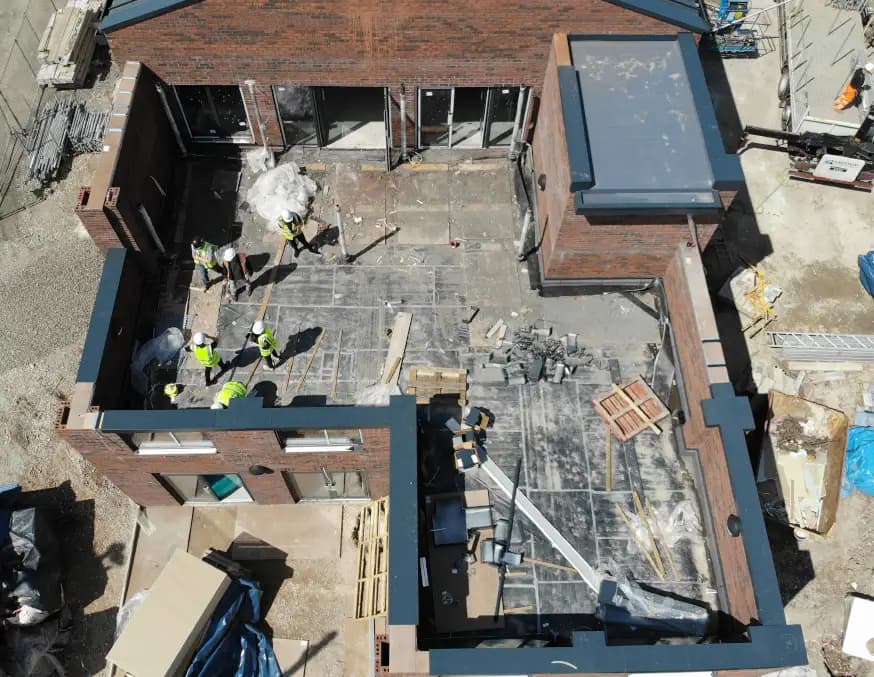 Before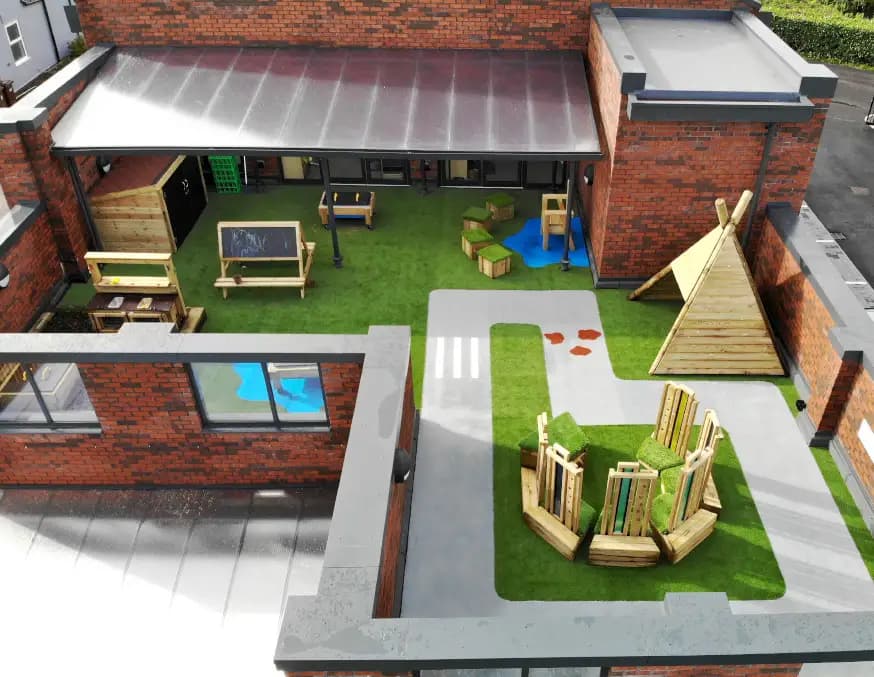 After
How can you be sure Pentagon are the best people for the job?
Our core values focus on positivity, empathy, honesty, and innovation. Building trustworthy relationships with our customers is essential to us, as is creating high quality and long-lasting playgrounds!
Our team is built of hard-working, creative individuals with a sharp attention to detail. Every project is completed with care, confidence, and consideration for your satisfaction.
Since 1998, Pentagon Play has been improving and growing into the specialist company that we are today, highly qualified in design, manufacture and installation of school and nursery playground equipment.
In 2021, we also launched our Online Shop, where all freestanding items can be easily ordered and delivered to you in just 2-4 weeks (may be subject to change). Here, you can find a range of products, suitable for all ages such as Water Walls, Picnic Tables and Mark-Making Panels!
Take a look at our customer Testimonials to see why we are the name to be trusted and a great team to collaborate with.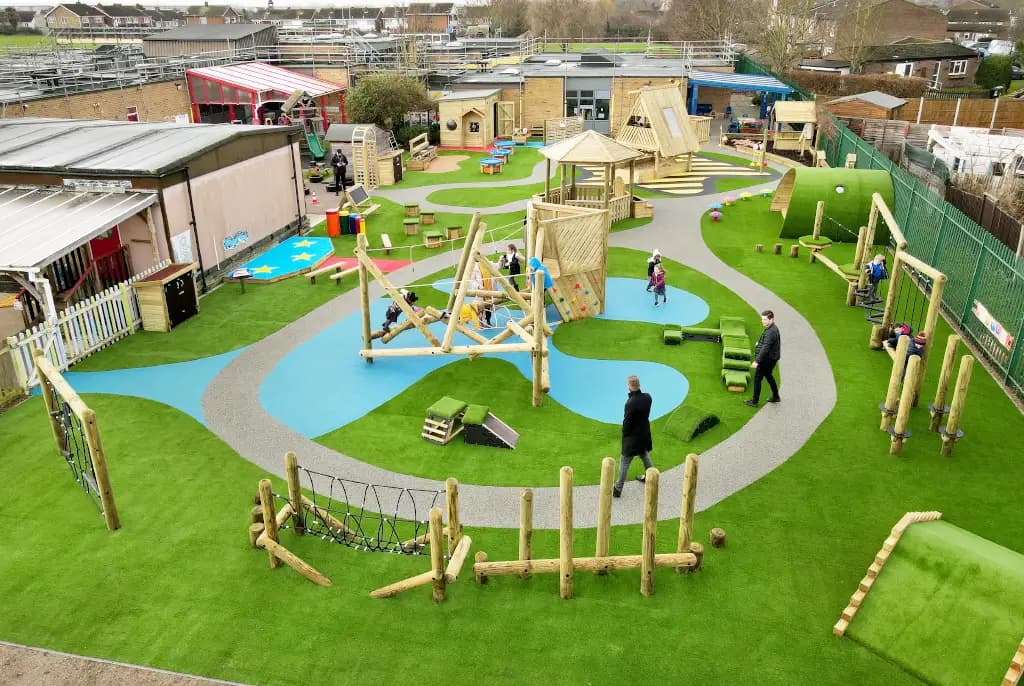 It all began with two life-long friends and a humble grass-mat.
Some years ago (we'd better not say how many!), two 6-year-old boys met in the school playground and became best friends.
Every weekend, Andy and Michael played in the woodland near where they lived, turning it into a playground for themselves and any other children who might turn up to see what was going on.
They would build dens, stage battles, and generally get up to the sort of adventure and mischief that young boys often do.
Fast-forward to today and things haven't changed much. They still treat life as one big, playful adventure!
Only now, they've built their playgrounds for over 14,000 schools and nurseries around the UK, improving educational play value for over 4 million children!
Last year, we transformed and improved the educational play experience for over 500,000children up and down the country
Andy and Michael began their Pentagon adventure in 1998. With formal training in manufacturing engineering, they developed the skills they needed to take their playground building to the next level.
At that time, there was a real lack of variety, fun, inspiration, and true educational value in playground products that were available to schools, and they wanted to do something about it.
Andy Snell
Owner & Founder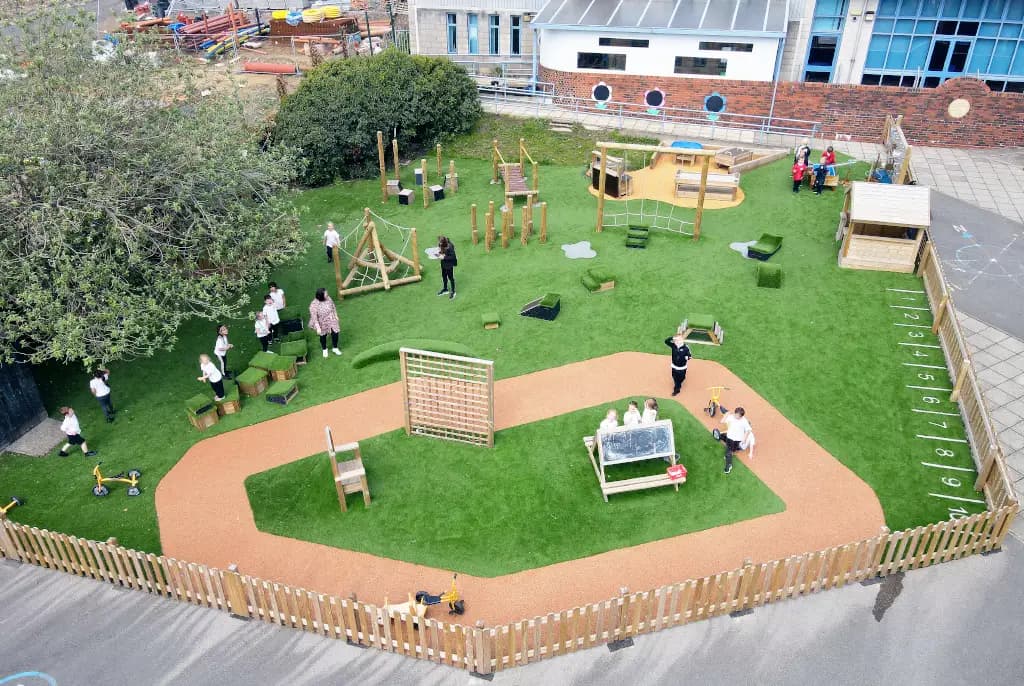 Michael Bischof
Owner & Group MD
Then, along came James and Sam.
James, an educational psychologist, had a detailed understanding of how children play and learn. He recognised where resources were lacking and knew that with the right designs, teachers could bring learning to life through outdoor play.
Sam, with a background in education and, as a self-confessed book worm when he was at school, had a strong will and a keen eye for inclusivity. He wanted to create products that allowed all children to enjoy play and learning outdoors, whatever their age or ability.
Over 20 years have passed and, in that time, Andy, Michael, James and Sam have grown Pentagon Play into an industry-leading company!
As you can see from our Projects and our Testimonials, our passion for transforming school playgrounds into enthralling outdoor learning environments is still as evident today as it was when we began this joyful adventure.
Expert Playground Consultants
Our team has been carefully constructed of hard-working, intelligent individuals with backgrounds in education, science, sports and more! This enables them to understand what schools need and how we can support them.
Our Outdoor Learning Consultants are happy to visit your site, whatever the scale of the project. They will listen, observe, and advise where necessary to make sure we get it right for you.
They will help you to plan your project and see it through from design to completion. We never charge for our consultations - we believe it's an important part of our perfectionist level of service - and why our schools are always so happy with our playgrounds.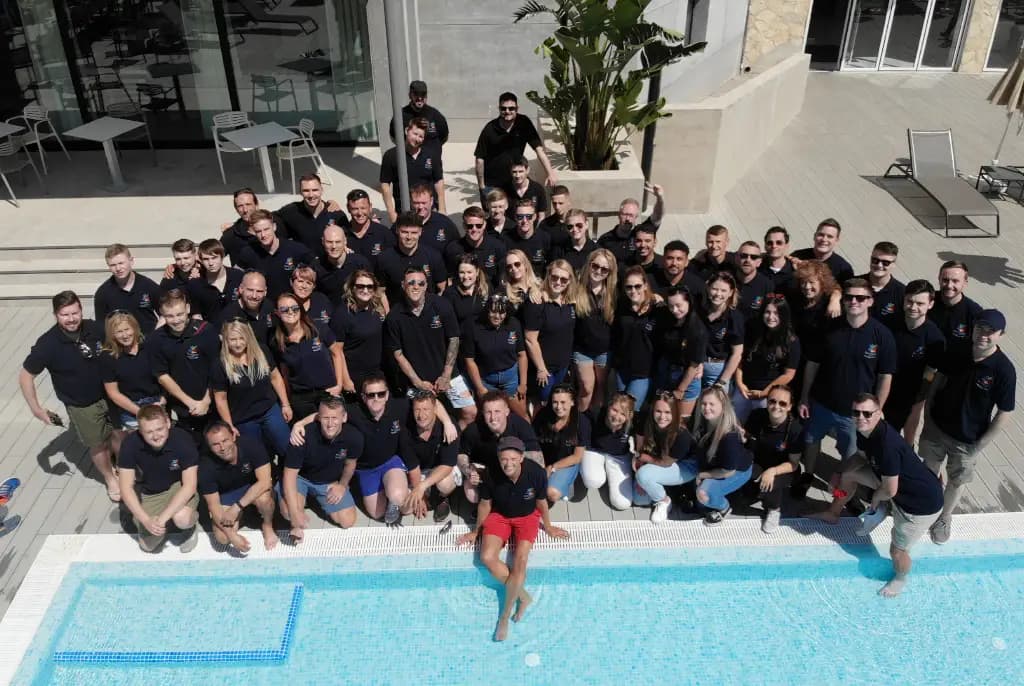 Product Development Team
Our creative, in-house Product Design Team are full of amazing ideas for developing our innovative range of products - they're always tweaking things to make sure that our products evolve with the curriculum and stay relevant, too.
We can't explain exactly how their magical minds work - but it's very clever and involves embracing their inner child! They work with teachers, EYFS leaders, Nursery Managers and SENCOs to gain valuable input and information from those working day in and day out with the children themselves.
Our current range of products improve the educational play experience of your children.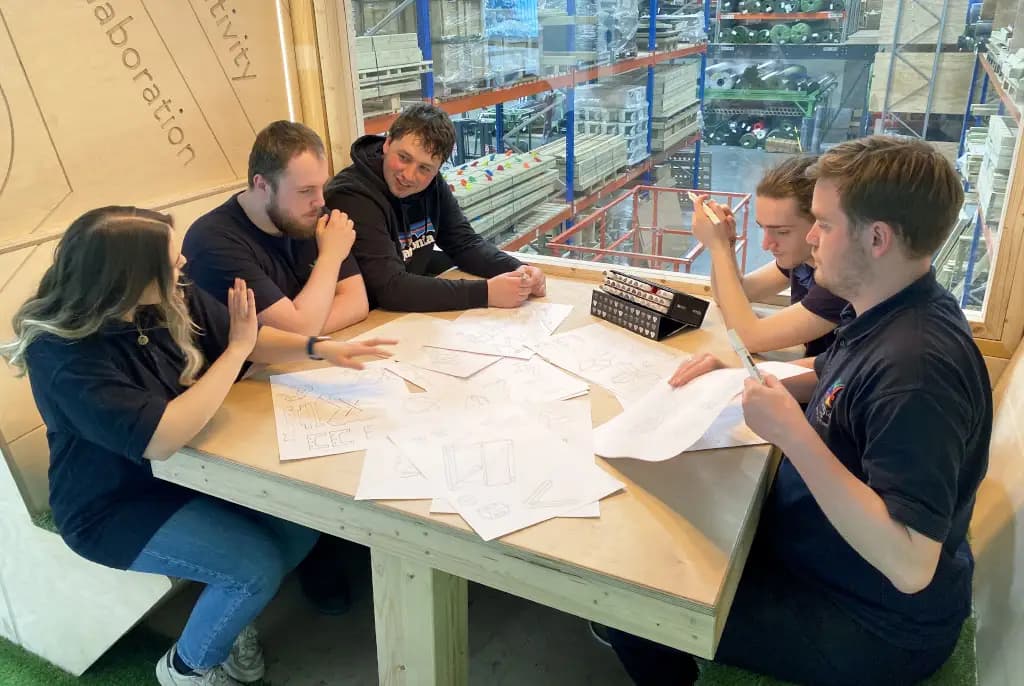 Craftmanship
Our expert Installers and Joiners are highly skilled - no idea or design is ever too much for them.
We understand that every school is different, so it's important to us that we can be flexible in our designs and installations - both in our workshop and on site - to make sure we cater for your specific needs.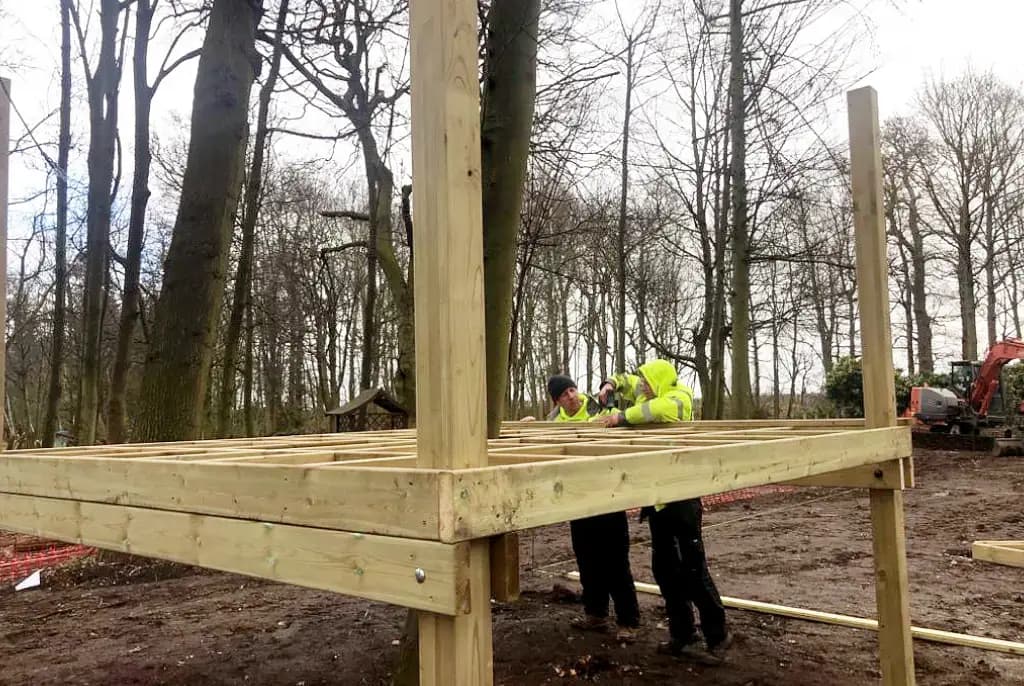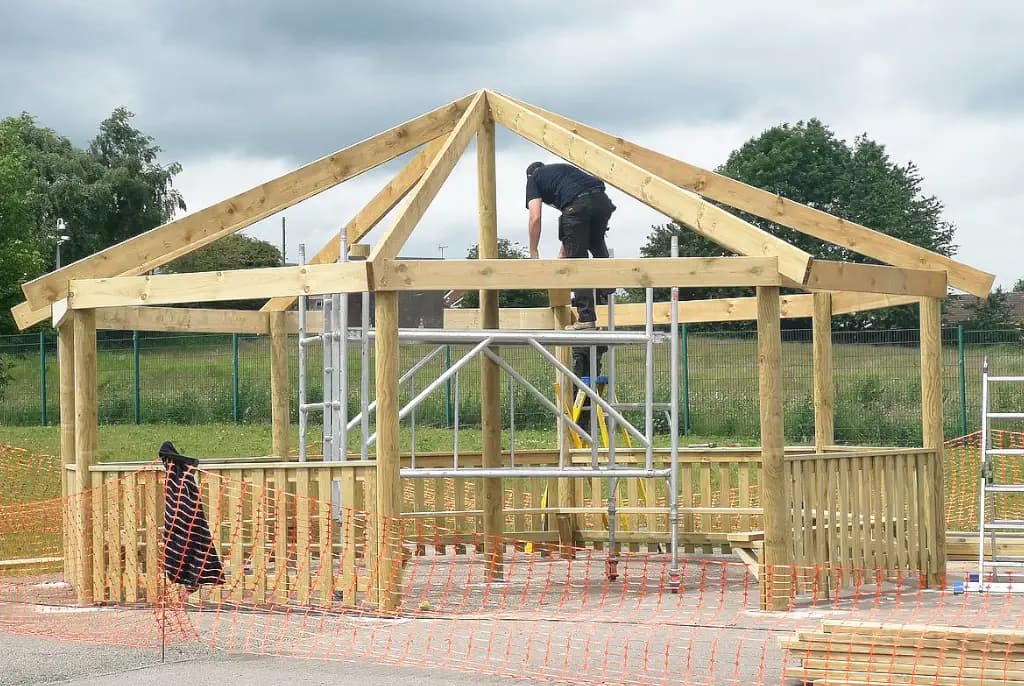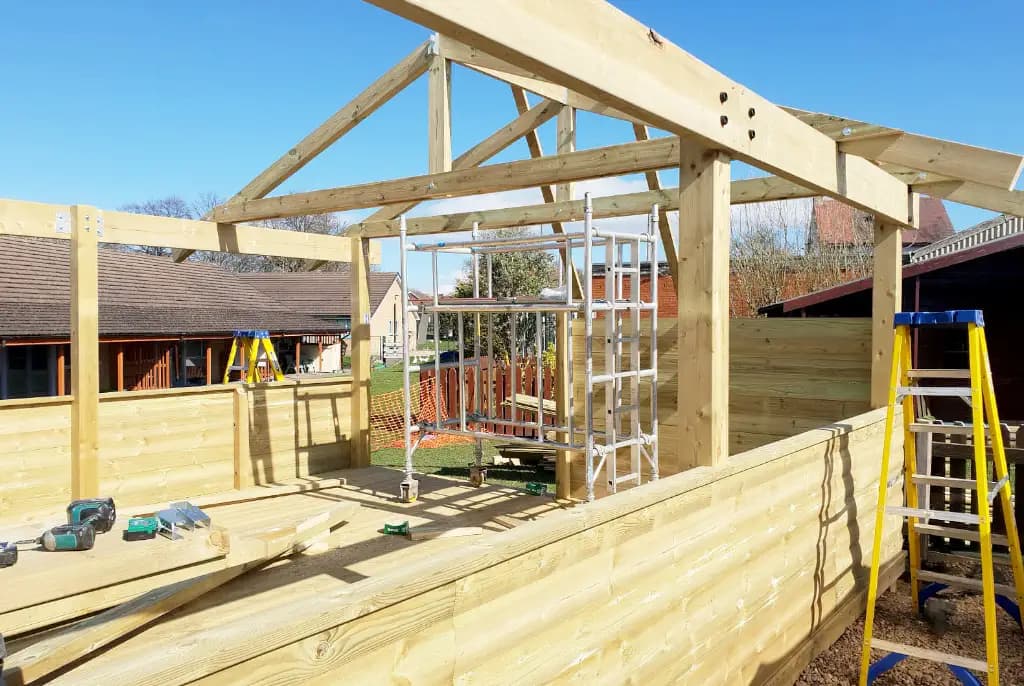 Stress-Free Process
We recognise the time constraints that schools are faced with - staff workload and busy schedules leave little time for planning a super new playground; never mind trying to get something installed while lessons are underway.
If you are tight for time, we can take a lot of the initial hard work, searching and planning away for you.
We know what we're doing - we'll listen to your ideas and prepare a design for your approval.
We will always work around you to make sure there is minimal disruption to your children.
Read more about Our Process here.
If you're still unsure, or if there is anything else that you would like to know about us (unless it's about how often we sneak off into the secret workshop to "test out" our own products - we couldn't possibly divulge that sort of information!), then please do give us a call.
If you're in a rush, feel free to send us an email and we'll email you back, or call you at a time that works for you.
You can find all our contact details on the Contact Us section of our website.
Alternatively, you can find a whole host of information written by our expert copywriters over on our Edu-Blog section of the website.