Our MUGAs (Multi Use Games Areas) satisfy a wide range of sporting demands and provide your children with the perfect space to compete and develop their Fundamental Movement Skills. We offer a wide range of MUGA pitch surfacing options which include 2G, 3G, 4G and polymeric surfaces. Our enclosures use a rigid mesh fencing systems with rebound panels and recessed goals to create the perfect enclosed Multi use Games Area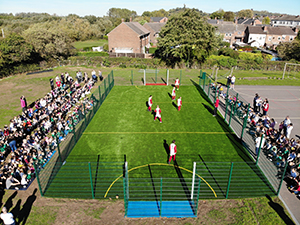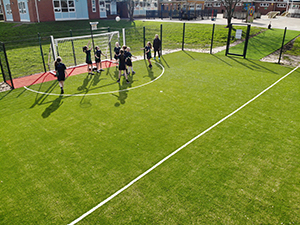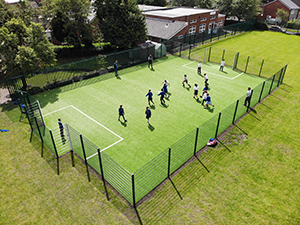 Multi-Use Games Areas create a sporting legacy at your school, the perfect Sports Premium investment

Our Kickabout Areas are a cost effective MUGA solution for your school playground

Encourage children at your school to participate in a variety of sports outdoors!

PE lessons have a dedicated outdoor space for practicing sporting skills

Allow children to play outdoors all year round with our multi-use games area.

Penalty shootouts, basketball and even hockey... MUGA's cater towards endless ball game options!

A wide range of fencing, goal ends and surfacing options are available

Provide your budding young athletes with a kick about space for playtime sport

We have a wide range of fencing, surfacing and goal options available to create your perfect MUGA

Our 4G MUGA Sports Surface is truly maintenance free as it is non-infill

Our rigid and welded mesh fencing systems withstand the rigours of sports play.

Satisfy a wide range of sporting demands while enhancing your sporting curriculum with our MUGAs

MUGAs create a sporting legacy at your school, the perfect Sports Premium investment

We offer 4G, 3G and multiple sports surfacing options

Combat sedentary playtimes with an all-weather sports pitch

Our MUGA's create a dedicated sporting area that can be used all year round.

A stunning, aesthetically pleasing MUGA, satisfying a wide range of sporting demands.

We offer a range of Sports Markings for our MUGA, extending your schools sporting provision

Our 4G MUGA Sports Surface is non-infill, which means it is truly maintenance free

Our MUGA's can be built to any standard and specification

Our 4G MUGA Sports Surface is non-infill meaning it is truly maintenance free

Our MUGA's are built to your standards and specification.

Our Artificial Grass has passed FIFA's rigorous durability tests

Our Kickabout Areas are a cost effective MUGA solution for your school playground.

We offer a range of rigid Sport Fencing and Gate options

We offer a range of Sports Markings for our MUGA's, meeting your schools sporting needs

Our MUGAs are built to Sport England standards

Our MUGAs and Multi Use Games Areas satisfy a wide range of sporting demands

Multi-Use Games Areas create a sporting legacy at your school, the perfect Sports Premium investment

View Newlands Junior School's 20x12 MUGA here

Click here to view St Wilfrid's Enclosed Multi Use Games Area

We offer 3G, 4G and multiple sport surfacing options

Take a tour of Ilchester Primary School's MUGA with Floodlights

Recessed goals create the perfect enclosed Multi Use Games Area

Our Kickabout Area (20x12) is a cost-effective MUGA solution

Click here to view Wheelers Lane's two Multi Use Games Areas

Built to Sport England standards

Rigid and welded mesh fencing systems

Add our Multi Goal Ends into your MUGA for multiple sports

Design, build, planning assistance and lease finance solutions

Click here to view Werneth Primary School's visually engaging MUGA
Multi Use Games Areas To Enhance Your School Playground and P.E Lessons
Our versatile Multi Use Games Areas for Schools play the perfect host to a multitude of sporting activities all throughout the year. Create the ideal outdoor venue for football, netball, lacrosse, hockey, basketball, tennis and even quidditch in your school grounds!
Whether you are looking for a brand new MUGA to be installed on an unloved piece of the playground or a boggy and inaccessible part of the school field, or you just want to refurbish your existing sports provision - from a simple kick-about area to a full-scale facility, we can match your exact requirements from start to finish.
Our MUGAs prove time and again to be an invaluable space-saving and cost-effective solution for schools - making them an excellent long-term PE and Sports Premium investment. Because so many different sports can be enjoyed on the same pitch, they remove the need for, and associated cost of, multiple dedicated sports areas - freeing up the rest of your school's outdoor environment for other play and learning activities.

Surfacing is key to making sure you get exactly what you need from your MUGA. As the UK's Number 1 playground provider, we are proud to offer a wide variety of top-quality sport surfacing options - including 2G, 3G, 4G and other polymeric surfaces, tarmac and Wet Pour - which we install to the highest of standards. All of our MUGAs are built to Sport England standards and our Artificial Grass surfacing has passed FIFA's most rigorous durability tests. They're all super-low maintenance (no mowing!) and will provide a consistent surface across the seasons.
We want you to get the most out of your MUGA for many years to come, even though your students will (hopefully!) put it through the toughest of tests! We are meticulous with our installation process, from the initial baseworks to the finishing touches.
All of our MUGA pitches include a shockpad underlay, and drainage solutions tailored to suit on-site conditions at your school, to ensure they can be accessed by your pupils in all weathers.
We offer a range of rigid Sports Mesh Fencing and Gate choices for our MUGA enclosures, along with rebound panels and recessed goal, target and ball chute options, and an entire range of bright and bold Sports Markings to suit all of your school's sporting needs. Our Sports Mesh Fencing has an anti-climb design so it's safe and secure from both sides. A clear through-view allows spectators to stand safely around the edges of the MUGA to cheer on their classmates!
Wondering if ground conditions or inclement weather conditions might make access to your MUGA an issue? Not as far as we're concerned! We're a complete school playground provider, so we have the expert design-capability and the appropriate resources to create easy-link pathway access from your MUGA to your dry areas. Our Outdoor Classrooms and Playground Storage go hand-in-hand with our MUGAs to provide excellent dry spaces to shelter while changing, spectating, or for storing bags and sports equipment safely and securely between games.