"Seeing", "hearing", "touch", "taste" and "smell". Just five little words used to describe our senses, but five little words with such huge importance. Our outdoor sensory play equipment will encourage children to learn through experiences that stimulate their senses while on the playground. Fully inclusive for children of all abilities including those with special educational needs who benefit hugely from sensory stimulation.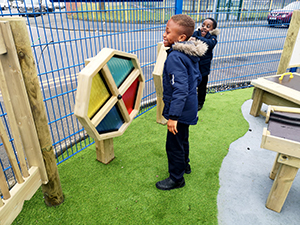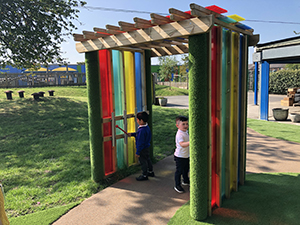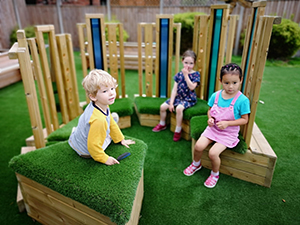 Provide children with SEN with visual and audio stimulation

Provide tactile experiences that are both calming and educational

Provide children with SEN with visual, audio and tactile stimulation with our Sensory Spinners

Create a calming, sensory play space in your outdoor learning environment

Light and Sound Sensory Archway

Light and Sound Sensory Archway

Provide tactile stimulation with our Sensory Panels

Encourage group conversation, the development of language and social skills

Sensory Arbours are great facilities for little learners

Sensory Arbours are a stunning addition to any playground

Sensory Spinners have many features that appeal to children

Sensory Tunnels can be an extremely beneficial addition to your playground

Our products can be customised to suit your school's needs

Trampolines are an excellent addition for your pupils

Give your children opportunities for new tactile experiences
Stir the senses in your school playground with our outdoor Sensory Play Equipment.
This is our world, and we all engage and interact with it and within it, in every single thing we do, one way or another, through our senses!
By creating sensory play opportunities in the school playground - spaces where children can go out and enjoy exploring everything that their senses have to offer - they will learn and develop appropriate responses and reactions. The school playground is their safe space for discovery after all, and sensory play can be extremely soothing or awakening depending on the nature of the activity. Of course we have all angles covered with our Sensory Play Equipment!
Responding to information gleaned through our senses is natural human behaviour, but it doesn't always just happen that easily. Our Sensory Play Equipment range is designed to exercise all the senses - even taste and smell - although we'll leave the growing fruit and flowers in the Planters bit to you!
With opportunities to explore light, colours, sounds and textures across our Sensory Panels, Tunnels, Arbours, Spinners and more, children can experience the many vital benefits of sensory stimulation such as:
Building nerve connections within the brain's neural pathways, to enhance cognitive growth and memory function
Boosting their language acquisition and communication skills through developing aural and oral responses
Learning to engage and interact with others in a supported environment
Improving fine motor skills and gross motor development
Recognising and responding appropriately to sensory input, such as hot and cold, wet and dry, different types of noise, sticky situations and how to deal with or avoid potentially harmful situations
All of our Sensory Play Equipment is fully accessible, and will support your school or nursery in creating an exciting, invigorating, inclusive playground environment for all of your pupils to join in together.
It can be ideally used in SEN outdoor spaces for calming a frustrated or anxious child, helping a child to self-regulate, or to engage in their learning, and for encouraging children with sensorimotor difficulties or a Sensory Processing Disorder to work through their challenges and feel more at ease in their surroundings.
Spruce up your walkways, turn your forgotten corner into a temptingly tactile sensory retreat - we're here to help you make the most of your school playground or nursery garden with some super sensory spaces - and we challenge you to keep your hands off! It just can't be done!