Goal Ends and Ball Chutes
Our wide range of Goal Ends, Target Walls and Ball Chutes will help improve children's ball skills, hand to eye coordination, reaction time, ball technique and overall fitness. Practise makes perfect, especially for children looking to develop themselves in certain sports. It's time your school children learn to 'Bend It Like Beckham'!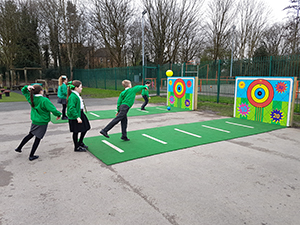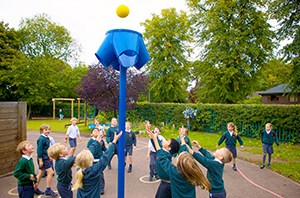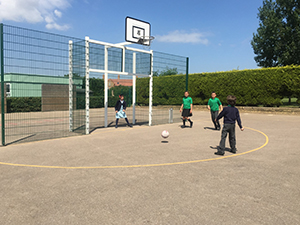 Add excitement to your playground with our adjustable basket ball post.

Encourage hand to eye coordination and enhance cooperation in your school

Fantastic range of Goal ends, Target Walls and Ball Shoots

Enhance hand to eye coordination in the children at your school with our 4 way ball shoot

Ball Targets are a fun way for children to practice

A great way to bring children together

Our Multi Goal Ends will help develop children in certain sports

We have 3-way and 4-way Ball Chutes

Mesh or Timber Goal Ends
Goal Ends and Ball Shoots Designed To Hone Skills On Your Playground
Right on target! Our Goal Ends, Target Walls and Ball Chutes are designed to fit perfectly into the school playground environment - encouraging group play, nurturing children's fundamental movement skills, and always helping them to find excitement and enjoyment in reaching their own personal milestones and sporting goals.
Fun games with friends in the playground, taking it in turns to shoot, catch or play keeper, are great for keeping children engaged and focused on sport for physical development, fitness and wellbeing.
Our innovative Goal End, Target Wall and Ball Chute designs will support all of your young learners as they develop the building blocks of physical literacy in engaging and inclusive spaces - learning locomotor skills through running, hopping, jumping and leaping - discovering and developing non-locomotor skills through balancing, bending, twisting, turning and pivoting - and mastering manipulative skills in throwing, catching and kicking.
Practice makes perfect, and our creative and adaptable products never fail to inspire and encourage children as they learn how to improve their ball skills, reactions, movement, coordination, accuracy and general fitness.
Build up your MUGA, repurpose a bare brick wall, break up bland spaces and boost behaviour at break times! We have a smashing selection of target-hitting pieces to make PE lessons and playtimes both fun and fulfilling.