Funturf is our unique playground carpet which provides a safe and colourful environment to play. With a wide range of colours, we really can create fun designs that will engage your children in physical play as well as cross-curricular activities. From Roadways to Number Caterpillars, we truly have a great way to bring your playground surface to life. Moreover, outdoor play carpets are cost-effective and free draining.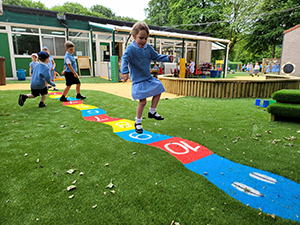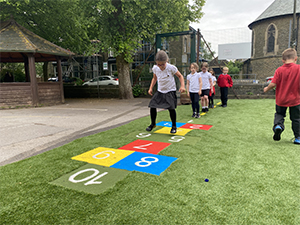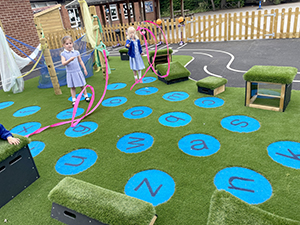 Create an all-weather environment children can develop through play within.

Create a MUGA with our fantastic Funturf surfacing

Funturf is a lovely surfacing option for underneath playground equipment

Our Funturf creates a bright and vibrant EYFS playground

Our Funturf can create a unique area in your school playground

Our Funturf is a brilliant multi-purpose playground carpet

Our Funturf can provide roadways to help children learn the rules of the road

Our Funturf is a cost-effective way to keep your playground safe

Create a sports pitch with our Funturf

Huge range of Funturf designs that increase cross-curricular activities

Mix colours and designs to create an imaginative place to play
Kind To Little Hands and Feet, Funturf is an Ideal Playground Safety Surfacing
Funturf is our uniquely brilliant, all-weather playground carpet.
Free-draining, don't care if it's raining! Our Funturf offers a soft and tactile, sensory playground surface with a carpet-like texture that children love. And because it's designed specifically for outdoor use, it's UV stable and self-draining, so it's not affected by the changing weather conditions and is ready to go all year round!
Kind to little hands and knees, it's an ideal safety-surfacing product to soften the ground underfoot, replacing callous concrete and worn-out or waterlogged grassy areas with it's bright and bold, colourful and playful designs.
Each and every time they're running around on it without fear of slips and trips, or they're sitting down on it to enjoy comfortable, floor-based outdoor learning activities - our Funturf will be there to completely open up all kinds of outdoor activity options for your Early Years, KS1 and KS2 pupils.
Funturf is available in a wide range of colours, and can be cut to any shape and size. Its vibrance and versatility allow us to create beautiful bespoke surfacing designs for your school's outdoor learning environment, that are unique to your school and can tie in with your school's colour schemes, logos, and values themes.
We also have a huge range of educationally engaging and entertaining Funturf designs ready to go, with different and specific learning goals and skill sets in mind. Combining numbers, letters and shapes, featuring popular floor-games, roadways and rivers for physical and themed play, Funturf will transform your playground floor into a lively learning resource to aid literacy, numeracy, physical agility and coordination, and language development.
We can install our Funturf onto any surface, and we will prepare and install the appropriate baseworks depending on the type of use that the space is needed for - either following the natural undulations of your school grounds as they are, or creating a perfectly flat, level surface for sports and games. We install our Funturf to match your needs, taking into account existing ground conditions and ensuring proper drainage.
A practical and cost-effective playground surfacing solution for achieving outdoor learning goals all year round, our durable Funturf maintains its delightful appearance however well-loved it may be!