Let the adventures begin! Our themed playground equipment will enhance role play activities and transport your children far away to imaginative worlds. For instance, children might sail the seven seas to find the buried treasure or tune into pirates walking the plank… the possibilities are endless. Moreover, our themed playground equipment can be a fun way to educate children about topics across the curriculum.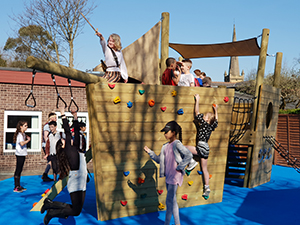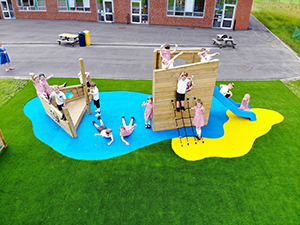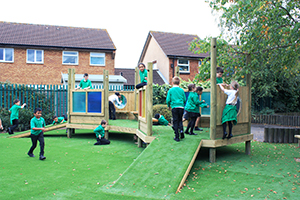 Sparking imaginative play and encouraging friendships with our imagination station.

Transform children's play and encourage cooperation within the pupils at your school.

Encourage imaginative and active play with our north sea galleon ship.

Walk the plank and spark imaginative play with our Play Ship.

Exalt the inner pirate and ignite imaginative play with our play ship.

Ignite friendships and imaginative play within your school with our imagination station.

Targeting imaginative play and cooperation in schools with our playship

Improve gross and fine motor skills whilst encouraging imaginative play with our north sea galleon.

Aye Aye captain, transform a child's play with our imaginative play ship

Create opportunity for imaginative play at your school with our imagination station.
Ignite Imaginations with our Themed Play Equipment
"Play is often talked about as if it were a relief from serious learning. But for children, play is serious learning. Play is really the work of childhood." - Fred Rogers
We are huge advocates of outdoor play here at Pentagon.
It's no secret that the benefits to children of time spent freely exploring, making up their own games, finding the confidence and learning how to make their own decisions and take risks safely, interacting with peers in a relaxed environment and getting active in the fresh air - physically, socially, and mentally - are without limit!
Ignite their imaginations with our Play Ships and Imagination Stations!
The outdoor play environment in your school grounds, with a good and varied selection of age-appropriate resources for your EYFS, KS1 and KS2 pupils, can provide the most wonderful opportunities for imaginative play. That's where we come in! Our unique and inspirational Themed Playground Equipment will transform any playground into a magical realm of endless possibilities just waiting to be explored.
With a combination of different physical challenges and problems to solve on each one, there's plenty to keep large groups of children active and engaged together. Not so much 'What shall we do?' - more 'Let's do this!'
Pick them up, switch them on, watch them learn and grow in all manner of ways. With our Themed Playground Equipment, your students can 'escape' from more academic tasks and other pressures for a while, following where their imaginations take them and discovering what they are capable of! This kind of free play provides a big-league boost to their mental health.
They'll be improving gross and fine motor skills needed for good physical health and development and other learning tasks as they play, and picking up essential life skills - perseverance and resilience, becoming great communicators, problem-solvers, forward-thinkers and safe risk-takers.
Stress-free, just 'be,' spaces to grow and play happily.