Our Playbond rubber bark chippings not only protect your children from falls but also encourage outdoor play through attractive designs. The impact absorbing material helps minimise injuries in line with equipment's 'critical fall height' (the height from which children may fall). Our Playbond rubber bark chippings are permeable and prevent any mud or mess from penetrating from below ground.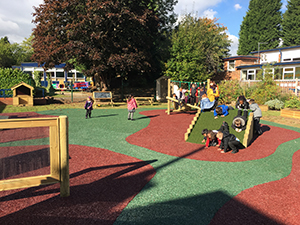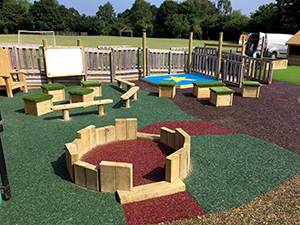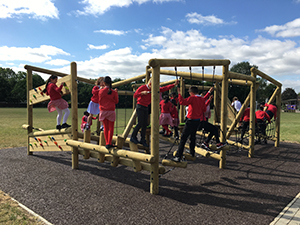 Create a safe play environment with our Playbond surfacing

Create an aesthetically pleasing playground with our Playbond Surfacing

Create a natural-looking play area in your school playground with our Playbond Surfacing

Create a safe active play area with our Playbond Surfacing

Design a natural looking playground with our Playbond Safety Surfacing
Playground Flooring enhanced with our Playbond Safety Surfacing
Why Choose Playbond for your playground surfacing?
If your old playground surfacing needs a refresh, and it's an all-weather accessible outdoor environment you need - Playbond could be the perfect choice for you.
Our super impact-absorbing Playbond surfacing protects children as they play. As a British Standards 'critical fall height' certified safety surfacing, it helps to avoid unnecessary slips and trips in the playground, and provides a cushioned landing in the event that children do lose their balance.
Manufactured from recycled shredded rubber, it's yet another of our eco-friendly playground surfacing choices that can be enjoyed all year round - it's entirely porous so that water drains straight through it, avoiding water-logging, mess and mud.
Easy to install, our Playbond can be applied straight onto any existing surface with no need to install a sub-base and no edging required. We can even install it onto grass with just a weed-suppressant membrane underneath to create pathways and all-weather play spaces.
We can shape our Playbond around existing playground equipment for a flawless finish - so it's a versatile choice whether you are having a brand new playground installed, or if you want to keep your current playground layout as it is and just need to enhance the surfacing around your outdoor equipment.
We install our Playbond in a stunning range of natural-looking, earthy colours - with bespoke design options and seamless colour-combination layouts bringing real visual-appeal and a guaranteed outdoor-adventure feel to your playground spaces.