Our unique range of Playground Stages will create an amazing outdoor performance area at your school. Simply being outside the confines of a traditional classroom gives children a sense of freedom and leaves them feeling less inhibited, the knock-on effects of which will lead to improved posture, better voice projection and greater creativity. Our outdoor stages are a great way to develop self-esteem, confidence and spoken language.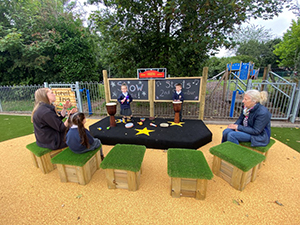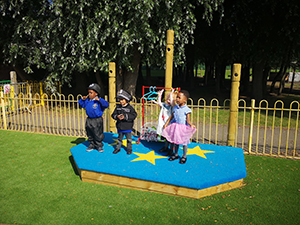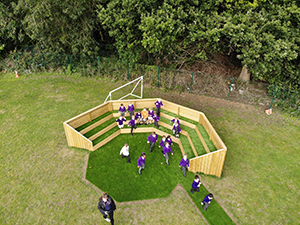 Spark imaginative play and increase children self confidence with our performance stage.

Spark the inner musician in the pupils at your school with our Performance stage

Ignite imaginative play and role play games for the pupils at your school with our Performance Stage

Boost children's confidence as they exalt their talent on our performance stage.

Exalt children's talents with our amphitheatre performance stage.

Inspire children to learn how to play music with our performance stage.

Encourage role play games within your class with our Performance Stage.

Spark friendships and communication within your school with our amphitheatre performance stage.

Encourage imaginative and creative play at your school with our amazing Performance Stage.

We have a stunning range of performance stages available in all different sizes

Our performance stages encourage creativity and excitement

These performance stages offer great facilities for children to learn within

Performance stages can be customised to suit your individual needs

Performance stages are a wonderful colourful addition to your playground!

Performance stages encourage creativity in your pupils!

The stages are perfect for year-round use!
Outdoor School Stages For Performing and Imaginative Play
Ladies and gentlemen, please take your seats! It's time for the show - and the actors are ready and waiting to immerse themselves in the most marvellous imaginative and creative outdoor learning worthy of a standing ovation!
We've developed an all-star range of Outdoor Performance Stages for schools and nurseries, setting the scene for outstanding performances across the curriculum in the Early Years and throughout KS1 and KS2.
Participation in performing arts is an essential component of a broad and fulfilling primary education, allowing children to develop their creativity and curiosity, and explore all different areas of learning at greater depth. They can try out new ideas, new ways of thinking and behaving in a safe environment, to develop a deeper understanding of the world around them and how they fit into it.
Taking centre stage on one of our Outdoor Performance Stages is empowering for your pupils! With dazzling star designs to guide them, and a choice of backdrop, such as Chalkboards or Dry-Wipe Boards, to create their own scenery and see their names in lights - there's plenty to encourage them to step up to the stage and express themselves! Being outdoors, in the fresh air, and away from the confines of the classroom, children are naturally more open to 'having a go' - no stage fright here!
Our Outdoor Performance Stages play a leading role in developing the whole child, helping children to acquire good language and communication skills, and to build their self confidence and self esteem. Singing and dancing is joyful, lifts the spirits and boosts their mental health - and it's good physical activity too! Sharing thoughts and ideas with confidence, finding their voice, speaking aloud, listening to and respecting others - it all goes right to the very heart of what outdoor learning is all about.
Our Outdoor Performance Stages remain some of our most popular outdoor learning products for their versatility, adding high cross-curricular learning value for nurseries and primary schools seeking to broaden their outdoor learning provision. It is widely recognised, for example, that musical performances promote numeracy, through counting, pace and rhythm patterns. And because our Outdoor Performance Stages offer so much scope - perhaps recreating a famous scene from history, or acting out a favourite book - there are no limits on how they can be used to facilitate high quality outdoor learning.
Our Outdoor Performance Stages can be partnered perfectly with products from our Playground Seating range, or a selection of our Outdoor Musical Instruments, to create an all-singing performance zone in your playground.
From Reception pupils just beginning to learn their lines to polished Year 6 performers, watch them progress together on their Outdoor Performance Stage - always providing the inspiration for some really fun, exciting and fulfilling outdoor learning.