Construction Play (or Constructive Play) is defined as play in which children use materials around them to build something new. This form of play encourages creativity, confidence and problem-solving skills as children discover how they can make their ideas come to life. With Pentagon's Construction Range, your school can now provide pupils with the ultimate construction play resources to choose from!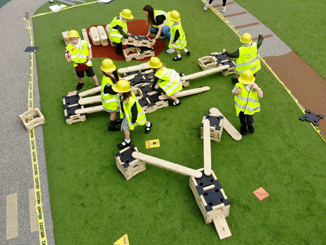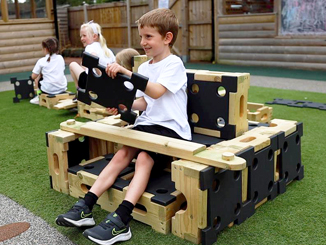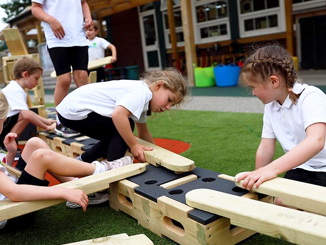 Children can use their completed course as an active trail, challenging them to walk across it!

Children will develop fine motor skills such as grip and control as they slot components together.

The Engineer set comes with specially adapted Water Blocks, designed to hold Water Channels!

Pupils can use their creativity and imagination to build and watch their ideas become possible!

Black lids can be slotted into the top of the blocks to create a solid crossing platform.

Children can work together, helping each other to place planks and blocks in certain places.

Children can build their balance and co-ordination as they complete trails without falling off.

Children will learn to evaluate the space around them, making sure planks aren't too far away!

Children will discover natural leadership as they work as part of a group to direct their peers.

Pupils may identify problems and come up with solutions, such as if the blocks won't connect.

Blocks can be stacked on top of each other, safely slotting together to prevent slipping.

Pupils will build their upper and lower body strength lifting and moving the blocks and planks.

Children will learn to vocalise their thoughts and ideas, sharing instructions on what to build!
Create a construction space for your pupils today
Construction play is essential for childhood development, enabling children to build key fine motor skills as they learn how to grip and grasp materials to create designs of their own imagination. Children will adore their newfound independence as they explore child-led play opportunities.
Whether working as part of a team and building essential turn-taking skills or crafting independently, there are a range of fun play activities to be had with these construction resources. Pupils can build boats, cars, planes, and dragons with this equipment- the only limit is their imagination!
Pupils can support their lessons and learnings through play, exploring their mathematics skills as they measure distances, count their building parts, and learn how to construct different angles. No matter what the subject is, this construction range can be used to support children's learning, giving them a chance to boost their knowledge through play.
Engaging in construction play from an early age has been suggested to have been an instrumental factor in future progression into architecture, the building sector and similar. Involving children in constructive play from a young age is key in building core spatial reasoning knowledge, allowing them to build their understanding of how much space is required for something, how things can fit together, and the way spaces can be used.
Seeing how an idea comes to life will encourage pupils' creativity and imaginations. Creating the designs of their dreams will boost pupils' confidence in themselves and allow them to understand how they can create something real. As pupils begin experimenting with smaller designs, as they see the successful completion, these ideas will grow rapidly. Soon, they'll be building their very own castle!
Every item in our construction range has been designed with the curriculum in mind. The educational skills that can be developed through constructive play are endless. Creating an amazing construction play space is instrumental in every child's school experience.