School Gazebos take away the constraints of an indoor classroom to create a thriving outdoor working environment on a playground, field or hidden deep inside a secret garden or woodland. Our school gazebos are built on site by experienced installers who have been working in schools for over 15 years. Depending on the size you choose, our Gazebos have a seating capacity of between 30-70 children.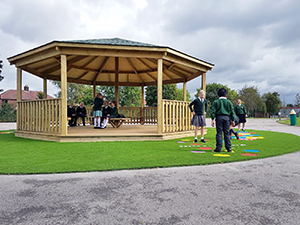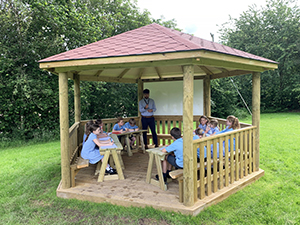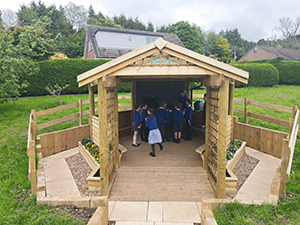 Provide your children with a suitable environment to learn outdoors in

With a watertight roof, children can learn outdoors come rain or shine

Create a secret storytelling area for your early years children with our 3.5m Gazebos

Encourage little learners to mark make and participate in role play games

Internal benches provides plenty of seating for group discussions

Rest your workbooks down on the workstations for productive fresh air learning

Our Gazebos enable your teachers to take a full class of children outdoors to participate in lessons

Provide your children with a calming, sensory environment

Create a practical, sheltered area for learning and play

Enable your teachers to take an entire class outdoors into a sheltered classroom

Our Gazebos are built on site by our experienced installers to suit any unique requirements

Provide your children with a calming, sensory space on their school playground

Create a thriving outdoor working environment for your children to learn in

Create a particle, sheltered space for outdoor learning and play

A truly waterproof roof protects children from the elements all year round.

Our Gazebos are built on your school site by our installers to suit any unique requirements

Create a lovely area for socialisation in the playground

Built on site by our experienced installers to meet your needs

A dreamy outdoor classroom and will spark children's imaginations as they work surrounded by nature
Innovative School Gazebos That Will Bring Outdoor Learning To Life
Come rain or shine, nothing can get in the way of outdoor learning and play thanks to our super School Gazebos!
Crafted from sustainably-sourced, beautiful natural redwood timber, our School Gazebos offer a stunning shelter feature for playtimes, and an ideal venue for you to break away from the classroom and take learning outdoors.
We have a fantastic range of Gazebo designs for you to choose from, suitable for EYFS, KS1 and KS2 and capable of seating between 30-70 children.
With enticing entrances, steps or ramps for inclusive access, fully waterproof roofing, cladding and window options to suit your specific requirements, we're sure you will find just what you're looking for right here!
Outdoor learning by its very nature is creative and changes with the seasons and surroundings. Because of this, we understand that a "one size fits all" approach doesn't always work when it comes to building the right Gazebo for your school. If your playground needs something a little different, don't worry!
Our aim is to help you bring outdoor learning at your school to life - and we offer bespoke Gazebo design solutions to ensure that you get exactly what you need.
We can incorporate a selection of fixed or flexible seating styles and work stations, mark making boards for learning, and even built-in living planters for personalising your Gazebo - allowing you to create a thriving outdoor play and learning space for your pupils.
Our experienced installers will build your School Gazebo on site to suit your outdoor environment - in the playground, out on the school field, or secretly hidden in your woodland area for magical, memorable learning experiences.
We build our Gazebos to be well used and well loved. And with industry leading guarantees of 15 years, you can be sure that your Gazebo will be built to last.
Take a closer look here at some of the fabulous School Gazebos we have installed in playgrounds across the UK.