School cabins and lodges ideal for your playground, field, woodland or forest school. We can create designs that can be transformed into a staff room, library, music room or even an outdoor science lab for investigative learning. Guaranteed for 15 years, our cabins and lodges are created from high quality timber frames and clad. We manage the whole process for you, from planning permission through to the entire on-site build itself.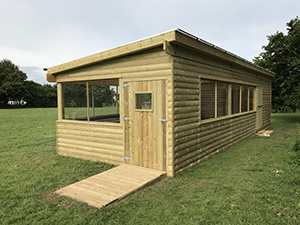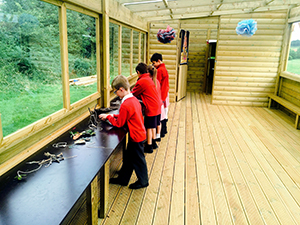 Amazing school cabins and lodges

A playground lodge could be turned into a staff room, music room etc.

Take a look at Heage's Science Lab

Our lodges come fully gazed with heating and wiring

Where will you place your log cabin?
Our School Cabins and Playground Lodges Bring an Abundance Of Outdoor Learning Possibilities
Our School Cabins and Playground Lodges provide an invaluable additional learning facility in your school grounds.
If your school is tight on flexible teaching space but you don't want the inevitable cost and disruption of a structural building project, our School Cabins and Playground Lodges present an infinitely ideal (and extremely exciting!) alternative option.
Bring your ideas for specialist teaching rooms to life - a new music and performing arts hub with space to make as much (wonderful!) noise as they like without disturbing other classes, a super science lab for the curious, a horticultural haven, or perhaps a dedicated outdoor library for your pupils to develop their love of reading - our School Cabins can be fully connected to a power supply, insulated and double glazed for year-round learning.
Made from high quality timber frames and with a range of attractive cladding and glazing options to choose from, your School Cabin will bring a beautiful, natural wood feature learning venue to your school playground, field or woodland area. A truly special place where children will love to head outdoors to learn!
Our School Cabins are designed to evolve with your school and can be adapted to suit different learning topics and themes. Whatever your planned use, we are flexible with our designs and can help you to choose exactly how to kit your Cabin out to best suit your needs.
We offer a choice of high quality, durable flooring and open-ended seating arrangements, integrated shelving and storage solutions, chalkboards and whiteboards for mark-making and visual displays, and timber planters for personalizing your Cabin throughout the seasons.
Sounds good? We'll help you make it happen!
We manage the entire installation process on your behalf - from creating your perfect Cabin design and obtaining any necessary planning consents, all the way through to completion of the on-site build - so that getting your Cabin up and running is straightforward and hassle free. And because all of our School Cabins come with the assurance of a 15 year guarantee, you can be sure of a worthy investment.
You can see some of our amazing installations for yourself here - and if you'd like us to pop round for an obligation-free site visit to discuss your ideas, please do give us a call!