Our playground landscaping and school landscape designs provide immediate visual impact. No landscaping project is ever the same as every school wants something unique. Our talented team can add any visible feature that include landforms, landscape mounds, elevation, water, decking, ramps and even bridges. Our bespoke capabilities will help you create an inspiring place for learning and play.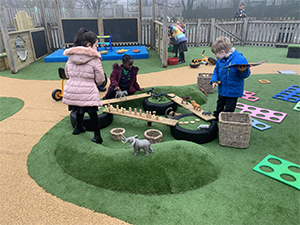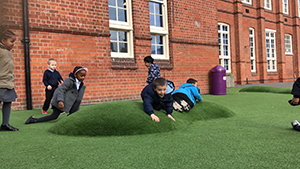 Create an immediate visual impact with our Playground Landscaping options

We can create landscape mounds in your school playground

We provide a wide range of playground landscaping options

We can create a landscape mound or even landforms

Other landscaping features can include water and decking

Create an inspiring place for learning and play with our playground landscaping options

Our landscaping will give your playground immediate visual impact

Take a closer look at St Andrew's incredible outdoor development

We offer bespoke landscaping solutions to every school
Let's Change The Play Landscape Of Your School Playground
Landscape mounds and landform bevels, with elevations for play at different levels - winding pathways to who-knows-where, ramps, decks, tunnels and bridges to here and there - textured surfacing and surfacing with 'give', 'real life' roads just like the ones where you might live - running tracks, floor-based games and colourful curiosities. They're all designed to help improve your playground's fabulosity!
At Pentagon Play, we specialise in transforming dull and lacklustre school playgrounds into beautifully landscaped spaces that provide immediate visual impact.
Our talented installation teams can build all sorts of exciting and intriguing features into your school's landscape - an open invitation for children to step outside to explore, play and learn - and one that's guaranteed to spark their interest!
If you are looking for sensory spaces, high-energy activity areas, interactive and explorative spaces to help develop specific areas of the EYFS, Key Stage 1 or Key Stage 2 curriculum, or a combination of all of the above - our playground landscaping services can help you to achieve exactly what you are looking for.
We recognise that no two landscaping projects are ever the same, and that every school wants to achieve something different and unique.
From our free initial consultation service and right through the design and installation process, we will listen to your exact needs and provide expert input and advice as to how you can make the most of your school's outdoor environment.
Using the latest technologies in groundworks and all-weather playground surfacing materials, combined with our bespoke design capabilities, we can remodel any school playground environment to optimise your outdoor learning, play and sports provision.
We have everything you need to bring your ideal nursery garden or school playground to life, right here.