Discover our versatile Stack and Sit packages, designed to create changeable learning spaces for pupils. Arrange these lightweight and movable stools and benches into any formation, creating collaborative work zones. Whether making the space into a quiet zone, a reading corner or a group work facility, the options are endless with these fantastic seating options. With built-in storage, interactive game tops and removable wipe-down cushions, they are ideal for your classroom.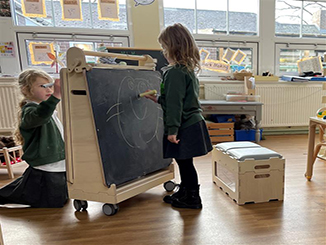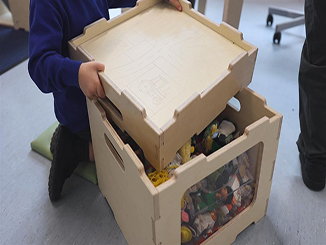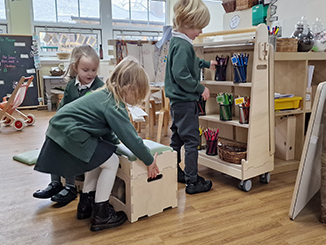 Our Stools and Benches stack easily on top of one another to allow for neat and tidy storage

Create a learning space with comfortable seating and interactive display resources

Lead smaller sub-group tasks within your classroom environment in a specific space

Stack the Stools and Benches easily together to open up floor space

Each Stool and Bench Lid comes with an interactive small world game top

Lift the lightweight lid to reveal the deep storage space within the seat

Children can sit at the low-level table and draw on the mark-making table tops

Stack the Easel on top of the Stack and Sits to raise the height for display purposes

Children can build their fine motor skills through play on the small world and sorting game tops

Lift the removable cushions to reveal interactive game tops

Children can sit at the low-level table and engage in interactive activities

There is a range of storage for all your classroom resources within each indoor product

Arrange the movable resources into whichever formation suits your classroom needs

The Easel can be placed easily onto the dolly with wheels and moved freely around the classroom
Flexible Classroom Furniture for your Learning Environment

Transform your learning environment with flexible classroom seating, designed to create collaborative and interactive workspaces for your pupils.
Our Stack and Sit range consists of Stackable Stools and Benches, and an Art Easel, with in-built storage spaces, crafted to ensure that you never lose learning space in favour of storage for your classroom resources. Made from natural-looking, lightweight wood, you can move our seating with ease, customising your space daily to meet the needs of your lessons and pupils. Stack lids on top of the seats to create a higher-level seat for teachers and adults, or place the removable cushions on the floor, if your pupils prefer to work on the floor space. The versatility of our modular seating range means that you can create the space best suited to your teaching needs and continuously add to it, as everything easily stacks together.
When looking to create more open-plan floor space within your classroom, simply lift the seats with ease and stack them safely to one side of the room. Lift the removable sage green and grey wipe-down cushions from the seats to reveal interactive game tops for the pupils to explore. With small world and sorting games engraved into the lids, pupils can build their fine motor skills whilst developing their own imaginary stories. Once the cushions are removed from the seats, you can create a low-level tabletop when purchased with the Art Easel. You can choose between a chalkboard or a whiteboard tabletop, where pupils can collaborate on group writing and drawing tasks, working on their grip and grasp
Each stool and bench acts as a combination classroom storage, with a clear window in the base, allowing pupils to peer inside and identify which resources they need from inside which seat. Simply lift the lightweight lid and reach inside to grab the equipment you need. Self-selecting has never been easier! Whether using the space as book storage, a space for resources or just as a versatile cube storage facility, you'll never be short of space!
Available in a multitude of packages, you can select the best Stack and Sit option for you, choosing the amount of seating needed and whether to create a sole seating arrangement or an interactive learning space. If you're looking for classroom storage ideas, as well as comfortable seating, then our Stack and Sits are ideal for you!