Create learning spaces where your pupils can engage in focused, dedicated learning. You can create distinct spaces within your larger classroom environment, featuring open storage for self-selecting, low-level seating that can be moved daily and an interactive art easel for pupils to practice their writing skills on! Create specific zones for pupils to immerse themselves in learning, such as writing zones, reading corners, or a sensory space!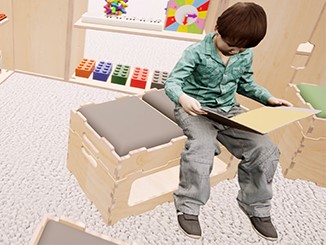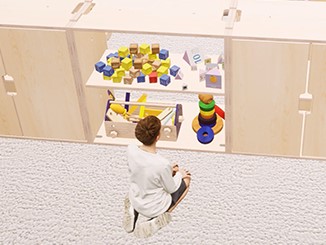 Create a low-level space within your classroom for group work and smaller activities

Removable cushions reveal interactive sorting and small world game tops

Children can access the low-level storage for themselves

The low height of the Easel means that children can draw and write on it independently

You can set smaller sub-group tasks within a designated space of the classroom

The Stack and Sit Lids have interactive game tops where pupils can build fine motor skills

Each Stool stacks easily on top of one another to free up classroom floor space

Pupils can work in smaller groups within the classroom on sub-group tasks

Have the cupboards arranged and installed in whatever formation suits you best

There is an abundance of storage inside the Easel behind the removable panels

Children will build key socialisation skills as they play together on the interactive game tops

Arrange your sub-group learning space into whatever formation you like

Stack the Easel on top of the Stack and Sits to raise the height

Lift the Easel onto the dolly with wheels and move it easily around your environment
Introducing Distinct Learning Spaces within your Classroom
Create zones for a specific group or independent activities within your shared classroom environment with our new learning space packages! Designed to offer you a combination storage and learning facility, these packages come with low-level storage cupboards, multi-purpose seating stools and benches, as well as an interactive art easel.
The storage facilities are the perfect height for both pupils and teachers to access, meaning children can self-select their resources with ease, teaching them independence and responsibility. The packages offer a range of cupboard options, whether you prefer to keep your resources behind closed doors or not, the choice is yours.
The Stack and Sit range is the most versatile classroom seating option that you will find. Designed to stack easily on top of one another to create a more open floor space for pupils to enjoy, you can arrange a new learning space daily. Also coming with built-in storage in the base, you'll never be short of space for your abundance of resources.
The Art Easel is also a great interactive facility for pupils to enjoy, coming on a dolly with wheels so it can be easily moved around the classroom, you can use this resource in the best way for you. With shelf storage behind the mark-making Chalkboard and Whiteboard panels, keep all your art resources in one place for pupils to grab when needed. Remove the mark-making panels and use them as interactive tabletops when placed on top of the Stack and Sits for pupils to doodle and write on, building key fine motor skills!
The Learning Space packages offer you the opportunity to split your larger class of pupils into smaller groups with individual tasks, giving them dedicated spaces for some focused learning time. Providing a zone for them to immerse themselves in a task can be crucial to their development and understanding. Find out how you can create your very own learning zones now!