Our playground storage for schools and nurseries include timber and steel storage units. Our range of storage solutions will keep your play equipment stocked and organised, helping to de-clutter your outdoor learning environment. Moreover, our playground storage units come in different sizes which help solve any issues of space.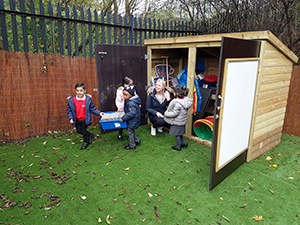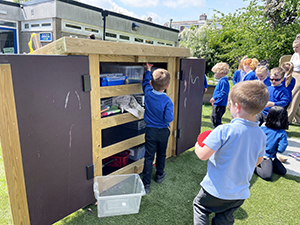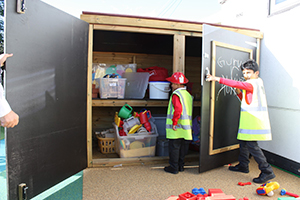 Keep your bikes and trikes safe with our playground stores

Playground Storage promotes independence and keeps your loose parts tidy.

Promote independence with our self-selecting stores

Provide your children with a dedicated space to store their wellies with our Welly Racks

Take a look through our huge range of playground storage solutions

We have larger playground storage units that incorporate mark making and role play

Our steel storage units come in all sizes

Enable self-selection with our playground storage

Keep your playground tidy and promote self-selection with our storage solutions

Allow your children to set up the playground and tidy up after play

We have storage units with animal identification boards

We have Bike Storage and Cycle Shelters for schools

We make storing playground equipment fun for children
Our playground storage options include timber and steel stores that help you keep your playground well-stocked for play and learning activities. Our storage facilities help solve any issue of space and will de-clutter areas giving you a more organised approach to teaching.