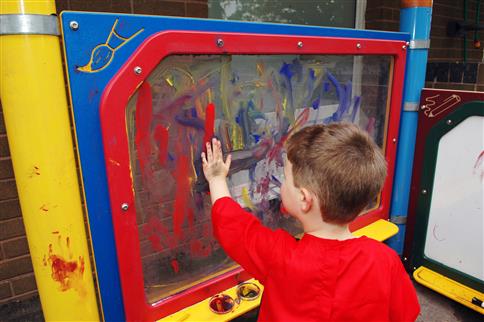 Poster Paint Mark Making Panel - Large
This product is no longer available.
Please take a look at our latest Imaginative and Creative products here.
Our product code: P-IC-APP-PPMML
It's in a child's nature to get messy and as we know, messy play is an effective method of learning for Early Years children. Our Poster Paint Mark Marking Panel allow children to get messy and paint wonderful creations without possible limitations children may have whilst painting indoors. They are given the freedom to express themselves through art with the use of their hands or their trusted paint brush. A great resource for creativity as well as social interaction as children get messy together to create shared pieces of art. The outdoors will really unloosen any creative shackle a child may find indoors... young Picasso, reveal yourself.
Technical Details
Associated Documents
Material Guarantees
Technical Details
Size (L x W x H): 1200mm x 140mm x 800mm
HDPE plastic panel
Includes:
Shatter proof polycarbonate painting window
Artists shelf with pot and brush holders
Brushes (x 3)
Paint pots (x 3)
Poster paints (x 3, 1 red, 1 yellow and 1 blue)
Associated Documents
Please contact us for further information.
Material Guarantees

Plastic Sheet