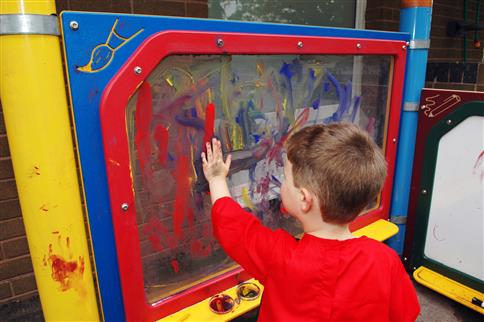 Poster Paint Mark Making Panel - Small
This product is no longer available.
Please take a look at our latest Imaginative and Creative products here.
Our product code: P-IC-APP-PPMMS
Unshackle indoor painting limitations and let your child get messy in the outdoors to truly express themselves through art. Our smaller Poster Paint Mark Marking Panel is ideal for expressive arts and PSED as children take it turns or work together to create messy artistic masterpieces. Young Picassos whether painting by hand or brush, will always reveal themselves.
Technical Details
Associated Documents
Material Guarantees
Technical Details
Size (L x W x H): 800mm x 140mm x 595mm
HDPE plastic panel
Includes:
Shatter proof polycarbonate painting window
Artists shelf with pot and brush holders
Brushes (x 3)
Paint pots (x 3)
Poster paints (x 3, 1 red, 1 yellow and 1 blue)
Associated Documents
Please contact us for further information.
Material Guarantees

Plastic Sheet