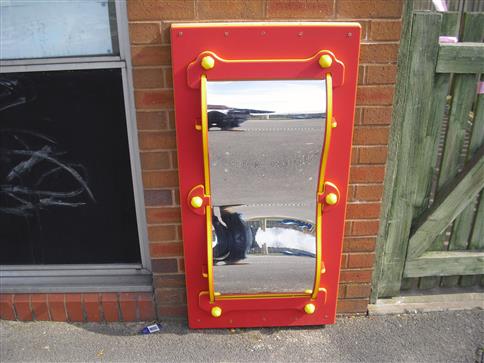 Wobbly Mirror
This product is no longer available.
Please take a look at our latest Imaginative and Creative products here.
Our product code: P-IC-APP-WM
Children will descend into fits of giggles when faced with the contrasting images that are created by the various curvatures of our Wobbly Mirror. Children will manoeuvre their position and pull faces to see how different shapes are created. This is a great resource for imaginative play and will have children engaged throughout their outdoor play time.
Technical Details
Associated Documents
Material Guarantees
Technical Details
Size (L x W x H): 600mm x 117mm x 1200mm
​Colour: red with yellow trim
HDPE plastic panel
Includes:
Rolled, polished stainless steel mirror
Associated Documents
Please contact us for further information.
Material Guarantees

Plastic Sheet