Our Play Panels encourage mark making, expressive arts, imaginative play and early pre-literacy skills. Moreover, Play Panels inspire collaborative play, meaning children will always be encouraged to invite others to play with them when using our products. As children play and learn together, they will develop their communication, language and PSED. These inclusive play panels can truly bring early years environments to life.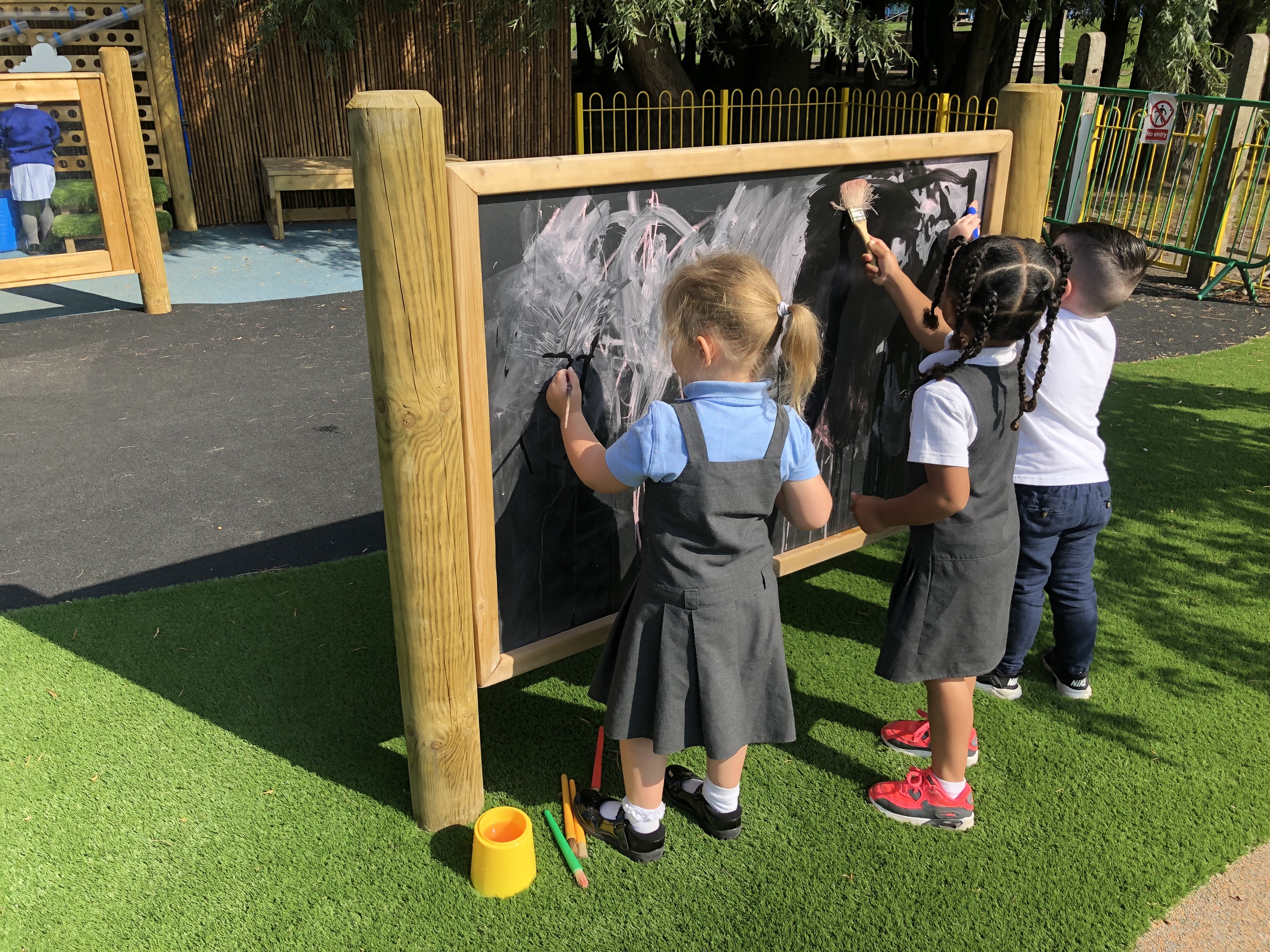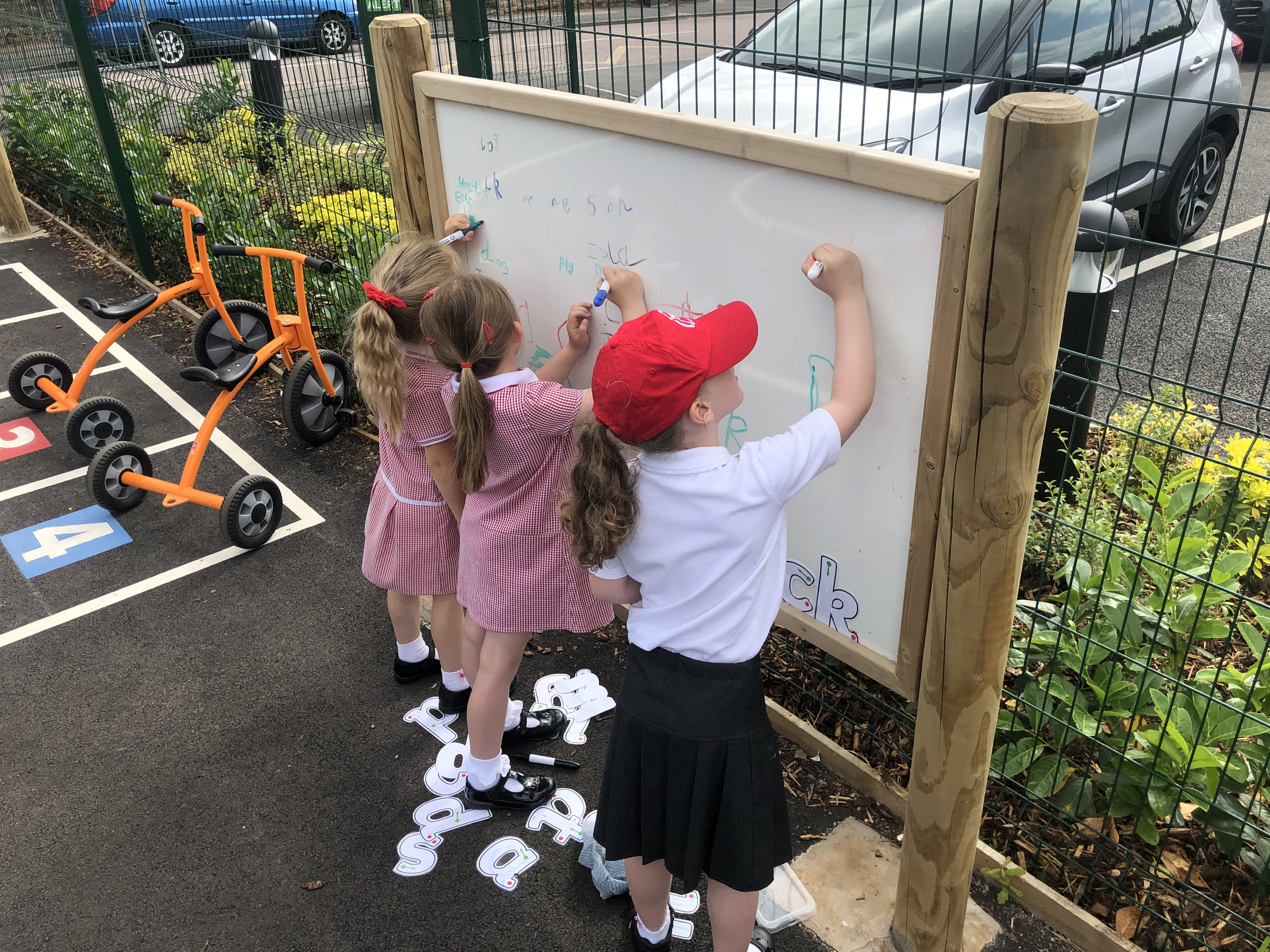 Spark innovative play and learning with our giant play panels

Encourage children to include STEM learning into their playtime.

Encourage mark making, expressive arts, imaginative play and early pre-literacy skills outdoors

Our play panels provide interactive fun for nursery children

Provide a space for budding artists to write, draw and scribble outdoors

Little painters can paint and mark make on a robust clear panel

Encourage children to practice literacy in the playground.

Design an EYFS playground where children can freely express themselves

Encourage children to mark make with our Giant Chalkboards

Promote communal mark-making and social interactions with our activity play panels

Our Whiteboards and Blackboards can be secured to posts or mounted to a wall

Our Solar Powered Stop Watch works great at the end of a Trim Trail or Assault Course

Play Panels for paint, chalk and pens

We have a wonderful range of role play panels

Our play panels provide plenty of interactive fun
Play Panels That Will Spark Role Play and Fun On Your Playground
Fantastic fine-motor fodder for fingers that like to fidget!
Our Activity Play Panels are here for the fossickers and fiddlers out there - with plenty of puzzles to push, prod, poke and keep them pondering and problem-solving all day long in their outdoor play and learning environment!
When it's time to get hands-on outdoors, to explore, investigate, experiment, and to try new and different ways of learning about all kinds of topics across the EYFS and KS1 curriculum, including developing reading, writing and numeracy skills - our Activity Play Panels have much to offer.
Chalkboard, Whiteboards and Poster Paint Panels are perfect for mark-making practice - painting, sketching, scribbling. Weaving Panels are wonderful for threading, weaving, creative art and design - with little hands busy strengthening their pincer grasp, and the fine motor strength, control and coordination needed for writing (and a whole host of other day to day life skills!) - and of course bringing on their imaginative, artistic flair!
Our inclusive range of Activity Play Panels has been designed to support outstanding outdoor learning - to challenge and to get students thinking. Mirrors and two-way panels set the scene for real-world role play and strong PSED, while investigation-setting panels will bolster science and maths-based topics.
Thoughtfully and carefully planned and designed playground layouts are a huge part of what we do here at Pentagon. Our Activity Play Panels can be used as fascinating space dividers when you're looking to break large playground spaces up, or to create specific outdoor learning zones, and you want to use something a little more inspiring and engaging than a traditional fence.
If space is limited, a selection of Activity Play Panels can be fixed against the walls to brighten up smaller playgrounds, cleverly maximising use of the space for brilliant play value, superb sensory stimulation and welcome social interactions.
Whatever you choose - your pupils are sure to have fun and learn some great new skills!