Den Making and Playhouses
Our Den-Making Equipment and Playhouses enable children to shape their own play environment. These open-ended resources are perfect for encouraging pretend play and helping children gain a better understanding of the world. By simply providing support and enthusiasm, rather than initiating ideas, you will quickly observe not only an increase in children's imaginative development but in their social and communications skills as well.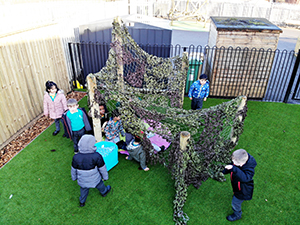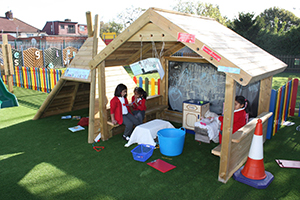 A fun way to encourage cooperation and friendships in your class

Add imagination to your playground and let the children's minds run free

Spark children's inner explorer by adding a hill den to your playground

Provide a quiet space in your playground for Den Making and Reading

Spark imaginative play with our den making posts.

Take a look at our fantastic range of School Playground Dens and Playhouses

Promote communication, teamwork and critical thinking in your playground with our Den Making Posts

Provide a quiet space in your playground for Den Making and Reading

Children will dive into another world and create their den of dreams.

Develop EYFS children's fine motor skills as they weave and thread material to create a den.

Promote den making and socialisation in your school playground

Engage children's imaginations and promote mark making in your playground

Provide your Preschool or Nursery children with an imaginative, open-ended resource

Create a magical space for fairytales to come to life with our playground dens

Promote mark making and role play with our playground playhouses

Promote language and communication development with a playground performance stage

Provide children with a place in your nursery garden where imaginations are ignited

Engage children's imaginations while promoting mark making and role play in your playground

What will your children turn their playhouse into?

Our Playhouses promote playground mark making and role play

Den making is an effective activity for independent learning.

Provide a quiet place in your garden for children to construct dens, relax or socialise

Promote literacy, role play and mark making in your nursery garden.

Inspire imaginative play and den making in your playground
Our Den-Making Playground Equipment and Playhouses Bring Child-Led Play to your Playground
Children love den-making! Planning and designing them, building and adapting them, make-believe playing in them - if they have a passion for creating and a great sense of imagination and adventure, then there's no better way to get their 5-a-day!
Our Den Making Equipment and Playhouses are the most wonderfully open-ended outdoor learning resources for bringing fantastically fun physical and problem-solving challenges to your school grounds.
We used the finest, sustainably-sourced, high-pressure treated play grade timber to carefully create and install all of our Den Making Equipment and Playhouses. It's super-smooth and kind to busy little hands, so you know they're safe as houses as they craft, construct and collaborate.
From Learning Dens to Lookout Cabins, Hobbit Holes to Pretend-Play Houses, Poles and Posts for hand-made hideaways and Wigwams for cosily finding some 'time away' - we have everything you need to ensure that children of all ages and abilities can join in the fun in your school playground.
Den-making activities bring with them so many benefits for children - it's something that embraces endless different learning objectives and never grows old or tired - no two dens need ever be the same!
Make learning memorable with your pick of our Den Making Equipment and Playhouses - an inventive an inspirational way for your students to have fun and achieve many accomplishments across the different areas of learning at EYFS, KS1 and KS2.
Here are just some of the super skills that children can practice and perfect through our fabulous range of Den Making Equipment and Playhouses:
Selecting and using a range of den-making materials and components effectively, and as appropriate, according to their functional properties and aesthetic qualities
Understanding how the properties of different materials can make them useful for different purposes in a shelter
Understanding how to design and build a basic shelter safely
Working individually and as part of a team to create and construct their own play themes or den designs
Solving problems creatively to make something that is fit for purpose. Practical application of maths, physics and engineering is all part of it!
Understanding how to test and improve their own work
Evaluating their ideas and creations and considering the views of others to improve their work
Making decisions individually and as part of a team
Communicating and cooperating with others and developing social skills
Finding out about themselves, developing their character, confidence and resilience both through construction challenges as they build, and role-play activities as they play in their dens
Learning to think independently as they formulate and see through their own ideas for building dens, and develop their own games
Acquiring and applying a range of new vocabulary
Maintaining fitness and good physical development through building activities and active role-play games
With our range of Den Making Equipment and Playhouses there is plenty for children to get hands-on and stuck into, making the most of their time outdoors in the fresh air. It'll do them the world of good!