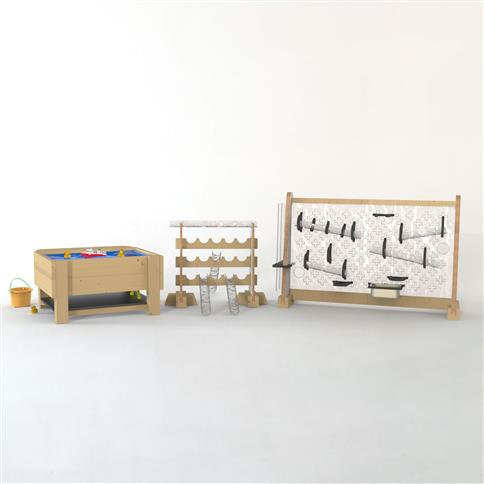 Windemere Water Play Package
Our product code: WA-IC-MSW-WWPP
Free delivery to mainland UK only, excluding Northern Ireland, The Scottish Highlands and Offshore Islands.
Designed for minimizing water waste, this package consists of the Water Wall, Water Channel Stands and a Water Table which has a much larger capacity than the Mini Tuff Spot Table. This set is ideal for those looking to create a versatile water play area with a multitude of play possibilities where the items can be used in conjunction with one another or individually. Pupils can discover the miracle of gravity as they channel the water along the tubes and direct it into the water table where they can then play with the still water. Not only does this package make for amazing play freedom, this package is great for incorporating into science lessons as teachers can utilise the rain drop and mountain etches to teach the water cycle
Technical Details
Associated Documents
Material Guarantees
Technical Details
Early Years Freestanding Water Wall with Channel Stands and Water Table
Water Wall Size (W x H x D): 1564mm x 1037mm x 433mm
Peg Board Panel Size: 1431mm x 798mm
'Play grade' sanded high-pressure treated timber
Clear 8mm PETG pegboard
Removable, stainless steel basin
Recycled Stokbord plastic brackets
Waterwall Includes:
PETG Panel (Water Wall Panel with cross cut outs)
Long Water Channels (x 2)
Medium Water Channels (x 2)
Small Water Channels (x 2)
Water Channel Brackets (x 10)
Rain maker (x 1)
Water Basin (x 1)
Water Stopper (x 2)
Water Rapids (x 3)
Water Channel Storage Bracket (x 1)
Water Bracket Storage (x 1)
Water Spout (x 1)
Set of water channel stands
(Single stand Size) (W x D x H): 344mm x 300mm x 748mm
Includes:
x2 Water Channel Stands
x4 Water Channels (x2 600mm & x2 800mm)
x3 Timber Connectors
x1 Storage Solution
Water Table with Lid:
Size (L x W x H): 934mm x 879mm x 500mm
Glass Reinforced Plastic Tray​
Expanding Drain Socket Plug
'Play grade' high pressure treated timber frame
Includes:
Plywood lid with plastic handles
Guidance for use:
Must be used under teacher supervision only
All water must be drained after each use
Associated Documents
Material Guarantees
Please contact us for further information.