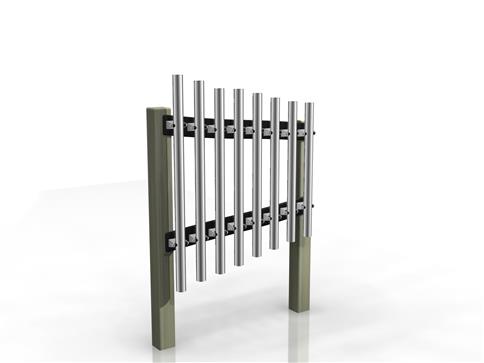 Chimes on Posts
This product is no longer available.
Please take a look at our latest Imaginative and Creative products here.
Our product code: P-IC-MUS-MC
Our Chimes on posts have been specifically designed with your potential limited space needs in mind. This wonderful addition to your once empty playground wall, will entice children to gather around and take turns in striking beautiful notes. This wonderful outdoor musical addition will not only promote the use of music outdoors but will also promote social interactions, self confidence and the importance of turn taking and sharing. You'll begin to see teamwork and collaborations as children experiment with the sounds together and us their imaginations to pretend play their own pop concert. This outdoor musical design will really drum up interest and can be a great introductory to music for EYFS children.

Technical Details
Associated Documents
Material Guarantees
Technical Details
Size (L x W x H): 1050mm x 200mm x 570mm
​
Includes:
Associated Documents
Please contact us for further information.
Material Guarantees
Please contact us for further information.