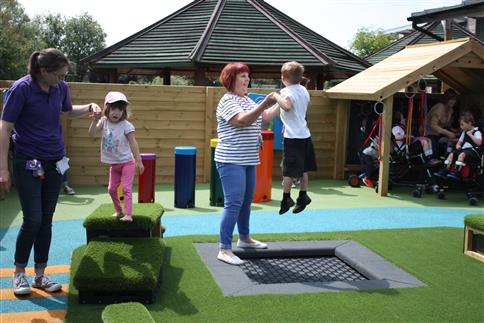 In-Ground Trampoline
Our product code: P-IC-SPE-IGT2x2
Our In-Ground Trampoline is a fantastic outdoor resource that can highly benefit children with SEN.
Bouncing on a trampoline provides children with therapeutic exercises as they repeat the action over and over again - increasing their concentration levels and providing them with a sense of calmness.

As the trampoline is sunken into the ground to become level, practitioners and careers can easily help children bounce as they improve their balance and coordination along with increasing muscle tone and strength as children jump and land.

The trampoline is inclusive to those who have restricted movement, are unable to climb up a ladder onto a traditional trampoline or need extra support from practitioners to use the equipment.
Technical Details
Associated Documents
Material Guarantees
Technical Details
Low Rebound Sunken Square Trampoline
Trampoline Size (L x W): 2000mm x 2000m
Bouncing Area Size (L x W): 1500mm x 1500m
Minimum Area Required (L x W): 5500mm x 5500mm
Minimum safety surfacing required : 31M²
Fall height: 0.9M
2M free space needed all around edge of trampoline
Weight Limit 168KG
Material Guarantees
Please contact us for further information.