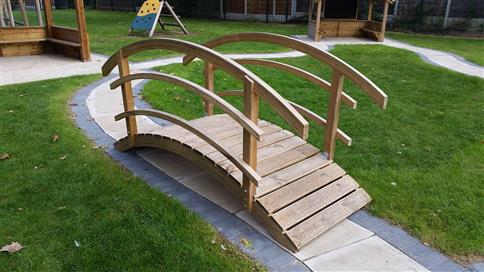 Arched Bridge with Bow Top Fence Sides
This product is no longer available.
Please take a look at our latest Surfacing and Landscaping products here.
Our product code: P-SL-LAN-ABBTFS
A low, arched bridge constructed from curved timber with decking and bow top timber fencing. Can be used to connect two different areas or as a play item in itself, introducing a gentle incline and different viewing aspect.
Technical Details
Associated Documents
Material Guarantees
Technical Details
Size (L x H): 2300mm x 970mm
Picket fence (H): 900mm
100mm posts concreted into the ground
Planed and chamferred timber for smooth sides and edges
High pressure treated, tanalised timber suitable for both above ground and in-ground use
Associated Documents
Please contact us for further information.
Material Guarantees

Timber