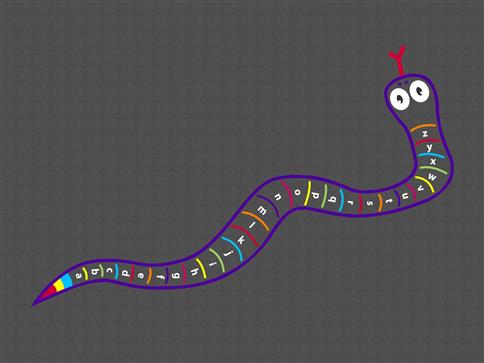 A-Z Snake Lowercase
Our product code: UN-SL-PM-AZSOL
Inspire imaginative play and enhance children's literacy learning with our fantastic Thermoplastic Playground Markings.

Our exciting A-Z Snake Playground Marking is a wonderful addition to any school playground. The snake will inspire imaginative play games while also encouraging children to recognise lowercase letters back in the classroom.

Children will naturally use the A-Z Snake as a focal point for imaginative play while including other children in their games; further developing their communication and language skills as well as their social skills and literacy skills.

By including this colourful playground marking into your playground, children will begin to recognise the alphabet and develop their spelling.

Literacy lessons can also be taken outdoors in an exciting environment. Children can be tasked with tracing the lowercase letters with chalk onto the tarmac surface to develop their fine motor skills and writing or running to the letter called out to get children active, creating a fun literacy lesson.
Technical Details
Associated Documents
Material Guarantees
Technical Details
Size: (L x W) 10M x 4M
Outline colour design
Thermoplastic
Associated Documents
Please contact us for further information.
Material Guarantees

Thermoplastic Markings