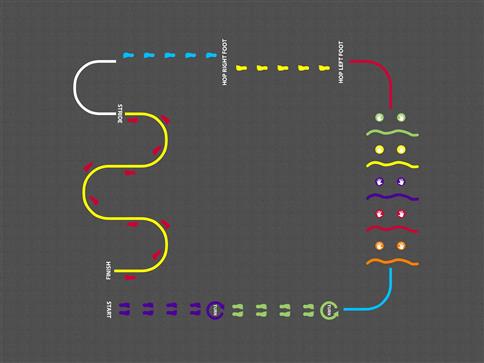 Activity Trail Markings
Our product code: UN-SL-PM-ATO
A fun and challenging Activity Trail created on the playground surface.

The varying challenges, will help improve children's strength, movements, co-ordination, flexibility, agility, core stability, balance and gross motor skills. It's practically an obstacle course without any equipment!

This markings design, will bring plenty of fun to the playground and can be used as a great warm up routine during P.E. lessons.

Children will enjoy practicing the trail during break times and while also further understanding the importance of taking turns.
Technical Details
Associated Documents
Material Guarantees
Technical Details
Size: 10M x 8M
Outline colour design
Thermoplastic
Associated Documents
Please contact us for further information.
Material Guarantees

Thermoplastic Markings