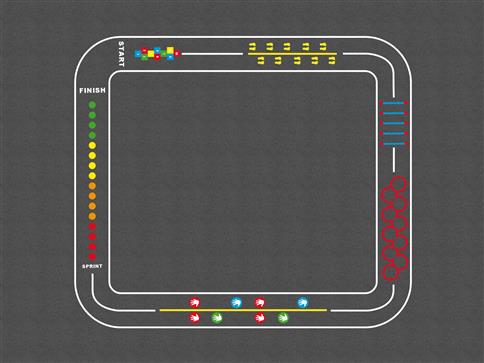 Fun Fitness Trail 2 (Outline)
This product is no longer available.
Please take a look at our latest Surfacing and Landscaping products here.
Our product code: UN-SL-PM-FFT2O
Promote active play in your school playground without taking up any precious space with our fantastic active play thermoplastic playground markings.
Our Fun Fitness Trail 2 Playground Marking is a fantastic track for children to follow, completing the 6 featured activities which will further develop their upper and lower body strength, balance and coordination.
The exciting activities ensure children will look forward to playtime to race along the trail together; promoting friendly competition and good sportsmanship.
As the trail doesn't state what children must do at each activity, the entire trail becomes open-ended for children to use in any way they like.
As well as this, children will naturally migrate to the vibrant playground markings during playtimes, naturally using the trail as a focal point for imaginative play. One day, the hopscotch could just be hopscotch, the next it could be a broken bridge where children have limited time to cross before it collapses.
What will your children think of?

Technical Details
Associated Documents
Material Guarantees
Technical Details
Size: (L x W) 15M x 13M
Outline colour design
Thermoplastic
Associated Documents
Please contact us for further information.
Material Guarantees

Thermoplastic Markings