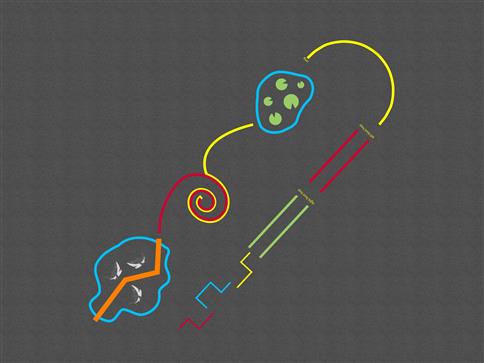 Fun Trail (Outline)
This product is no longer available.
Please take a look at our latest Surfacing and Landscaping products here.
Our product code: UN-SL-PM-FTO
Our Thermoplastic Playground Markings are a fantastic way to provide an active challenge for your children without taking up the space Playground Equipment would.

Our Fun Trail Playground Marking is an open-ended trail that inspires children to explore a world of imaginative play through physical activity. Children will create their own active play games, whether they're balancing across a bridge avoiding the sharks or hopping on the leap pads to cross the pond. The Fun Trail will also create a vibrant playground environment.

Children will naturally use the trail as a focal point for imaginative play while including other children in their games; further developing communication, language and social skills.

The trail can also be used to create exciting P.E. lessons or to enhance storytime. Children will love acting out stories such as 'Going on a Bear Hunt' using the trail to inspire their role play.
Technical Details
Associated Documents
Material Guarantees
Technical Details
Size: (L x W) 20M x 6.25M
Outline colour design
Thermoplastic
Associated Documents
Please contact us for further information.
Material Guarantees

Thermoplastic Markings