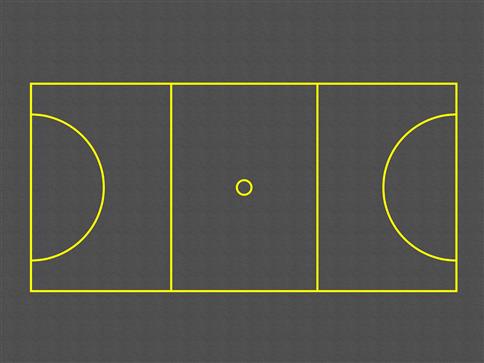 Netball Court (Outline)
Our product code: UN-SL-PM-NCO
Introduce your primary school children to a range of sports with our fantastic Netball Court Thermoplastic Playground Markings as you begin to create a sporting legacy and enhance your schools sporting curriculum.

By introducing your children to a range of different sports, you will be encouraging participation in sports, teaching children how to lead a long lasting healthy lifestyle and developing children's love of sports.

Through playing netball, children improve their cardiovascular fitness, coordination, hand to eye coordination, overall body strength and agility. As well as developing key skills such as social skills, communication, language, good sportsmanship, teamwork and cooperation.

The Netball Court Playground Marking is a fantastic P.E. lesson resource which doesn't take up any precious space on your playground. Children will naturally migrate to the netball court during playtimes too, wanting to participate in sporting activities.
Technical Details
Associated Documents
Material Guarantees
Technical Details
Size: (L x W) 30M x 15M
Outline colour design
Thermoplastic
Associated Documents
Please contact us for further information.
Material Guarantees

Thermoplastic Markings