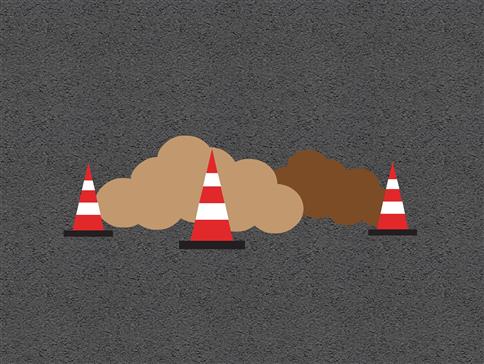 Roadworks
This product is no longer available.
Please take a look at our latest Surfacing and Landscaping products here.
Our product code: UN-SL-PM-RWK
Our Roadworks Thermoplastic Playground Markings are the perfect addition to any playground roadway surface as they enhance children's imaginative play games while developing their understanding of the world and knowledge of road safety within a safe environment.

Particularly, children can be taught about how to cross a road safely around roadworks that spread onto the pavement without any of the hazards including cars, motorbikes and other pedestrians.

As children ride around and walk across the roadway, they will naturally begin to incorporate their road safety learning into their imaginative play games which they will easily be able to transfer onto real roads.

Our roadworks playground markings enhance children's imaginative play games. Children will naturally use the roadworks as a focal point for imaginative play while involving other children in their games; further developing their communication, language and social skills within an exciting playground environment.
Technical Details
Associated Documents
Material Guarantees
Technical Details
Size: 1M
Solid colour design
Thermoplastic
Associated Documents
Please contact us for further information.
Material Guarantees

Thermoplastic Markings