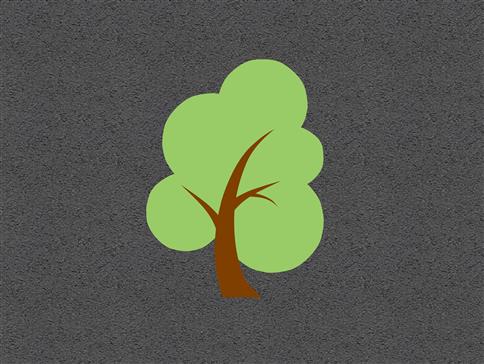 Tree
This product is no longer available.
Please take a look at our latest Surfacing and Landscaping products here.
Our product code: UN-SL-PM-TRE
Our Thermoplastic Playground Markings are a fantastic way to brighten up your playground tarmac and open up a world of imaginative play games for your children.

Our Tree Thermoplastic Playground Marking is a colourful addition to any playground environment.
Whether you merely want to brighten up your playground environment with exciting playground markings or create an inspiring home or roadway environment for children to develop their understanding of the world in, our Tree Playground Marking is an excellent playground addition.
As apart of a home environment, children will begin to bring fairytales to life, such as Little Red Ridinghood while creating their own too.

Children will naturally begin to use the Tree as a focal point in their imaginative play games; supporting children in expressing themselves through imaginative play.

As children participate in imaginative play games, they will naturally involve other children in their games; further developing their social skills, communication and language skills with our colourful natural-looking tree.
Technical Details
Associated Documents
Material Guarantees
Technical Details
Size: 0.725M
Solid colour design
Thermoplastic
Associated Documents
Please contact us for further information.
Material Guarantees

Thermoplastic Markings