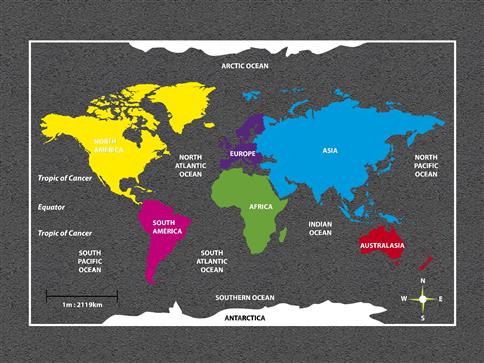 Labelled World Map
Our product code: UN-SL-PM-WM
Transform your playground into an area for cross-curricular play.
Our World Map thermoplastic playground marking is an exciting way for children to learn about and understand the world. Geography lessons will become fun and exciting as children are encouraged to participate and get active too.
As our World Map features a compass and scale, mathematics can even be taken outside into an exciting environment. Children will eagerly participate and understand what is being taught when shown on a bigger scale. The compass encourages children to begin to understand and use simple compass directions while the scale helps children to learn how to interoperate a scale as well as calculate distances.
During playtime, children will naturally migrate to the vibrant marking, including it in their imaginative games. Children will also naturally begin to distinguish the continents back in the classroom, remember key spellings and begin to develop a geographical vocabulary.
Technical Details
Associated Documents
Material Guarantees
Technical Details
Size: (L x W) 6M x 4M
Solid Colour Design
Thermoplastic
Associated Documents
Please contact us for further information.
Material Guarantees

Thermoplastic Markings