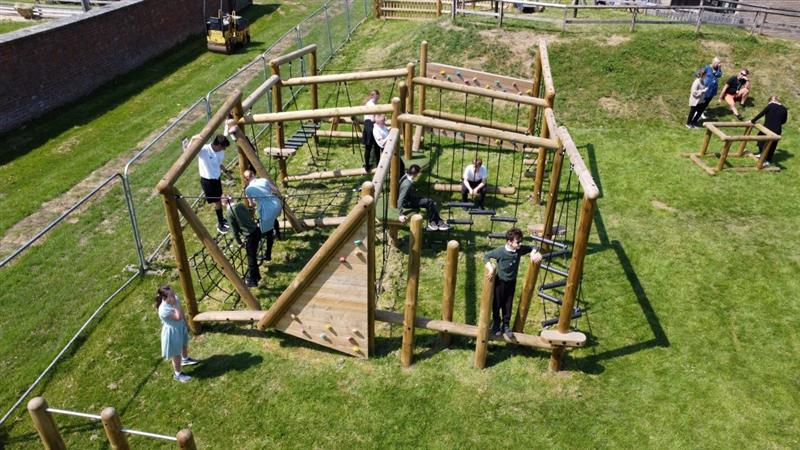 The Customer
At Welburn Hall, they strive to conquer in education, educating pupils ages 8-19 in all manner of subjects, teaching them the full curriculum, as well as valuable life skills.
Providing an active play space where pupils can go and let off some steam in between lessons, build their physical activity levels and get the chance to be adventurous.
This is why Welburn Hall contacted Pentagon Play.
You can also Contact Pentagon Play to discuss your own playground project.
---
Their Objectives
When Welburn Hall in York contacted us, they were very open to ideas, and advice and suggestion.
They only had a few major wants/priorities:
Would love an active play course with plenty of opportunities
Must be suitable for older children
Must have some climbing features
Outdoor Learning Consultant, Greg Gavin, got to work.
---
Our Approach
To give that 'Wow' factor, with plenty of active play opportunities, Greg advised on the installation of a Grizedale Forest Climber.
The Grizedale offers a range of climbing challenges and opportunities for children of all ages and varying climbing ability.
The platform to platform crossing, climbing wall and net tunnel bridge are just some of the amazing and engaging challenges available to pupils on this climber.
However, that's not all that Greg recommended.
Greg also advised on our In-Out Shapes, designed to challenge pupils' imagination and problem-solving skills as they design new methods to climb around and use these shapes to build their gross motor skills.
In addition to both of these products, Greg also added Forest Pull Up and Rollover Bars and Forest Rollover Bars, providing the perfect place for pupils of all ages to work on their upper body strength as they attempt swinging, flipping and other adventurous gymnastics tricks on them.
---
The Results
Welburn Hall School now has a bright and interactive play space that even their older pupils can explore and enjoy.
Where there was previously a bare and empty space with no climbing opportunities for pupils at all, there is now a hub of play options for them to choose from, depending on how they feel that day!
It's also the perfect facility for showing pupils how they can incorporate physical activity and exercise into their daily life in a fun way, without playing into the typical 'exercise is boring' stereotype that often exists. This will be hugely beneficial for them in the future when leading healthy, active lifestyles.
This active adventure playground will now stand tall at Welburn Hall School for years to come!
Are you interested in active play to your playground? See your Active Play Options now!