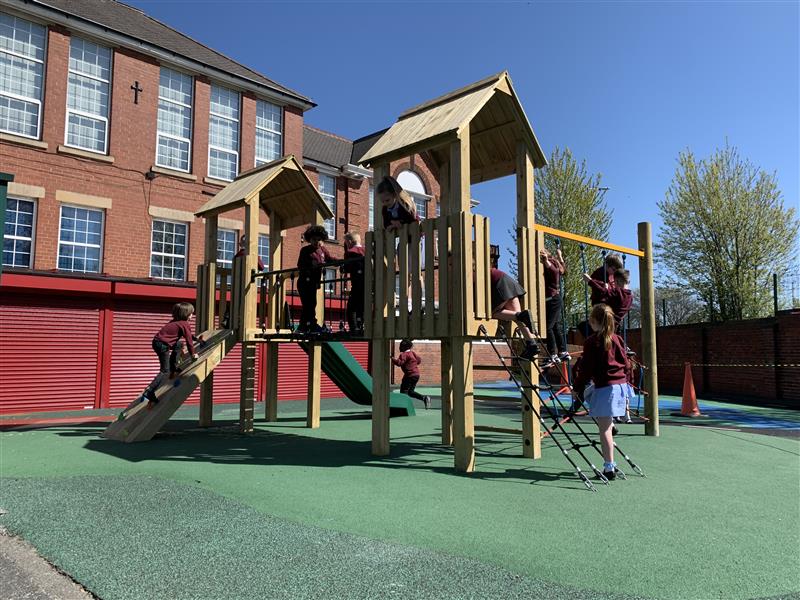 An Adventure Playground Development to Inspire Creative Imaginative Play Games
With extensive grounds for their little learners, St Bede's Primary School in Jarrow wanted to introduce some fixed play resources that would test and challenge their children's key physical skills and inspire new and far away imaginative play worlds.
Our North East based playground consultant, Greg Gavin, was delighted to work alongside St Bede's to design a confidence boosting, energising and inspirational adventure play area!
Developing Early Physical Skills and Inspiring Creative Games
For the little learners in EYFS, Greg knew that igniting creative games and concentrating on improving fine motor skills, gross motor skills and climbing confidence was key!
The Tintagel Modular Play Tower with a bright green Wetpour surface underneath has proved to be very popular amongst the kings and queens of Reception!
Transporting themselves to an era a long, long time ago, the tower is perfect for sparking new creative games amongst peers.
Moreover, the climbing net, climbing ramp and net traverse are perfect for encouraging children to develop the little muscles in their hands as they venture to the top of the tower.
On the natural grass, the monkeys can swing, climb and balance to their heart's content! Scaling the humongous Harterfell Climber with Platform and Slide, the children have to grip and grasp the ropes and carefully balance along the beam to reach the platform for an exciting exit down the slide.
It's a fabulous resource for imaginative play!
An Active Play Area to Test and Challenge KS1 Children's Physical Skills
With the early years children having a fabulous selection of climbing resources, the school wanted to ensure the current Key Stage 1 children had a space they too could test and challenge their key physical skills on, whilst providing the younger ones with a challenge to move up to.
Along the fence line, our Primary Trim Trail 3 creates an exciting multi-obstacle challenge for the children to conquer!
13 challenges, including our a tightrope bridge which requires careful feet to balance along and a timber climbing wall to scale, provides everything the children need to improve their lower and upper body strength, climbing confidence and fine and gross motor skills during play.
St Bede's children absolutely adore all of their energising new adventure play spaces and can't wait to transport themselves to new and exciting imaginative play worlds whilst developing their key physical skills!
Would you like to create a new adventure play space in your school playground? Contact Us Here to begin your journey with Pentagon Play today.