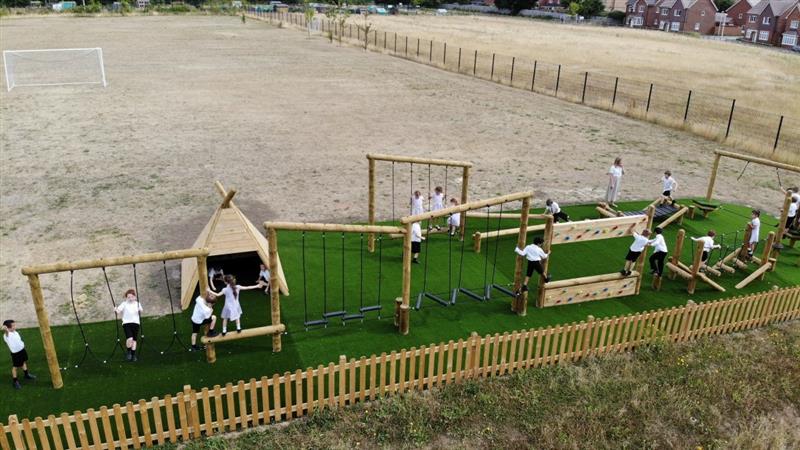 A Terrific Glen Tanar for Alder Grove CofE Primary!
Alder Grove Primary School contacted Pentagon looking to expand the learning through play opportunities in their playground, with a particular focus on Key Stage One.
Working alongside experienced Outdoor Learning Consultant, Sam Flatman, Alder Grove were able to plot out a multi-stage project!
See phase one of this project now and keep your eyes peeled for more developments at Alder Grove in the future.
Quite a Quiet Space
If you're looking for a quiet, breakout space for pupils to practice self-regulation and remove themselves from over-stimulation then this is a great area to take inspiration from.
Featuring a WigWam, children can retreat to the den space for some quiet reading time, conversations with friends or child-led independent play.
Another great space for giving pupils some peaceful time during the school day, and also for getting up close with nature is the Forest Floor Learning Den.
Designed to be close to the ground, pupils can hop in and lie close to the ground, without having to sit in the mud. This will then allow them to peer through the windows at the ground below and examine the insects, creatures and natural aspects around them.
The Great Glen Tanar
One of our most unique trails, the Glen Tanar Forest Trail features 10 different components, designed to entertain and engage pupils in active play!
With three different styles of bridges, pupils can traverse across the trail, testing their agility and learning how to improve their balance.
Balance will also be a much-needed skill on the Platform to Platform Tightrope Crossing, designed to get pupils communicating with one another as they help guide and support their peers along the rope.
The traverses are also a great challenge for those pupils looking to test themselves and see what they can do!
Individual Trim Trail Additions…
Wanting to add to the Glen Tanar Trail to make it a bespoke space for their pupils, Alder Grove added two individual Trim Trail Items.
Firstly, they added a Wobbly Log Traverse! This is a super fun facility, encouraging pupils to brave the uncertainty of the wobble and get themselves across using their determination and skill!
Secondly, they added a Horizontal Climbing Wall Traverse for even more excitement. The brightly coloured hand-hold grips make an engaging space for pupils to pretend they're climbing a mountain, scaling castle walls or avoiding a pit of lava below them!
This play space is super engaging and we bet the pupils of Alder Grove absolutely love it!
If you would like to add to your outdoor area with something active and engaging like the Glen
Tanar, then Contact Us Today!
Or, browse our other Active Play Trails!