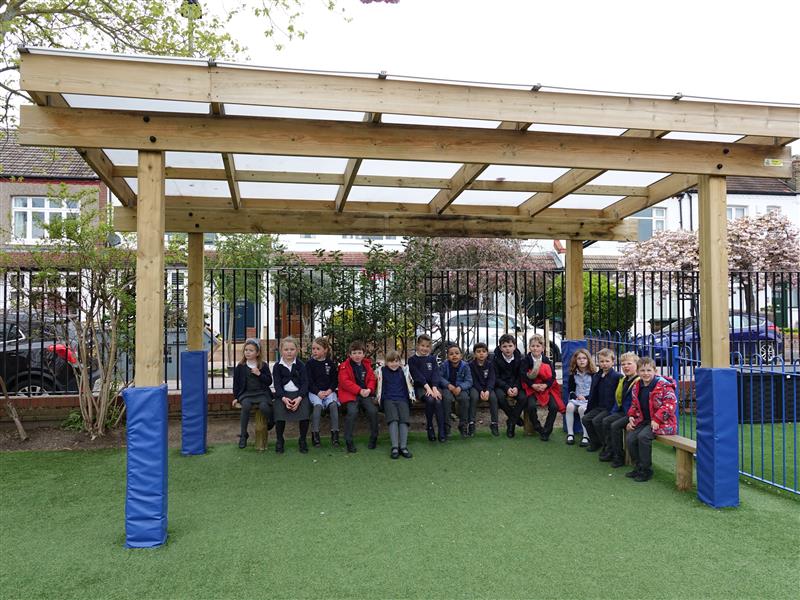 The Customer
Aiming to instil a love of learning in their pupils, Balgowan Primary School in Kent contacted Pentagon Play to create an engaging outdoor area that would promote learning through play.
Experienced Outdoor Learning Consultant, Sam Flatman, worked closely with the staff at Balgowan to create an interactive play space where pupils can make friends, have fun and build on their classroom teachings!
---
Their Objectives
After putting this project on hold due to the COVID-19 pandemic, Balgowan Primary was eager to get started on this KS1 Playground redevelopment to revitalise their existing space for their pupils.
Their key priorities were:
A starter climber for younger children
Summer houses that can be used for role play/set up as reading corners
New, bright surfacing
---
Our Approach
To create a space for children to begin their climbing journey, Sam advised on the installation of a Bespoke Triple Tower Unit with a slide, fireperson's pole and rock-climbing spaces.
This engaging space was the perfect solution to Balgowan's top priority of creating a starter climber where pupils could build their confidence through play.
To solve the need for sheltered summer houses that act as den spaces for the pupils to play and learn within, Sam advised on 2 Bespoke Giant Playhouses, designed to have double lockable walls and Perspex windows. This takes the spacious Giant Playhouses and turns them into a year-round summer house for the pupils to enjoy.
Finally, to transform the appearance of the space with some new, bright surfacing, Sam suggested the installation of Playturf Artificial Grass, breathing new life into this environment.
The stunning green artificial grass offers a natural appearance to the space, whilst also removing the difficult aspects of real grass, such as the area becoming muddy and slippery in the winter.
---
The Results
The children at Balgowan now have a space like no other where they can play and learn independently.
Pupils will love building their own stories of play on this new bespoke tower, bonding with their peers and creating complex imaginative tales.
That's not the only active play feature in this playground that the pupils will love either. With both a Climb Through Tunnel Hill and an Arched Bridge, pupils can work on their balance and coordination through active play in this engaging space.
The 2 Playhouses offer the perfect den space for the children to create worlds of their own imagination, using the large chalkboard back to draw and write on, building their fine motor skills and creating realistic imaginative play environments.
We loved working with Balgowan on their brand new KS1 play space and we hope they love their new space for a long time to come!
If you would like to work with pentagon play to redevelop your outdoor play space, please don't hesitate to get in contact with one of our friendly team members!