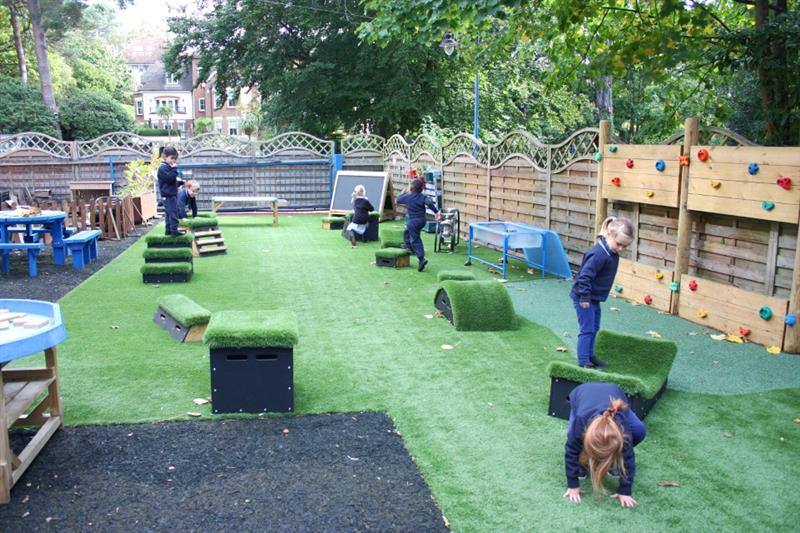 A Dream Playground Space Created for The Lucky Children at Bournemouth Collegiate Preparatory School
A versatile and open-ended outdoor space was the order of the day for the Early Years pupils at Bournemouth Collegiate Preparatory School in Poole, Dorset.
Tired of trying to make the best of a dismal tarmac playground, the staff knew that it had so much more potential.
They had dreams of turning the space into a bright and engaging play zone that would inspire the children to learn in different ways and properly support their progression.
In addition to the tarmac area, BCS' grounds also boasted a beautiful, natural woodland space, but it wasn't fulfilling its true potential.
The junior pupils needed an area where they could enjoy climbing, balancing and developing their physical skills and this was the ideal spot.
The Priorities of An Amazing Playground Design…
After meeting with head of preparatory school, Kay Smith, and assistant head of early years, Charlotte Martin, our playground consultant Nicole Fairman set to work creating a playground design that reflected the priorities they had identified.
They wanted an area that would look welcoming and that would look like an outdoor area, but would actually be an extension of the classroom. It was particularly important for us to:
maximise the space available, using a variety of all-weather surfacing, so that the area could be accessed all year round, whilst brightening the space
design the space to support an easy, open-ended and flexible set-up that would allow practitioners to focus on all areas of the curriculum and support the key skills they wish to promote
zone the outdoor area with clearly identifiable activity sections and facilities that would help to develop the children's physical skills
provide a natural-looking space in keeping with the school's ethos
Transforming Old Tarmac into a Colourful and All-Weather Environment
We began by turning the old tarmac space into an all-weather environment, resurfacing with a combination of our beautifully soft, green Playturf Artificial Grass through the centre parts and our light and dark green Wetpour Surfacing to mark out separate learning and play zones.
This immediately transformed the area into a space that can now support plenty of free-play and floor-based activities, where the children can come out to read books, play with construction toys and so on.
"The artificial grass has completely changed the appearance of the area and it means the outdoor area looks more tidy and more appealing. It makes the whole area an outdoor space that reflects our approach to outdoor learning at BCS - it is welcoming yet still natural."
A Place for Creative Culinary Games
A large Mud Kitchen was the perfect choice to give the space a creative aspect - somewhere for the children to be imaginative, where they can make lots of wonderful things using natural materials from around the school grounds such as leaves, bark, and soil.
Our largest Mud Kitchen is ideal as there is room to get lots of children around it - it's a great piece of equipment because the children are encouraged to really work together to problem solve, use their own ideas and experience sensory learning.
Early Outdoor Physical Play Opportunities
We installed a single-sided timber climbing wall on the edge of the playground, providing the children with a high-energy and physically challenging zone that allows them to develop their upper body strength, grip strength and balance.
A set of our popular Get Set, Go! Blocks, a fabulous movable set of activity blocks, are a lovely feature in BCS' new playground.
They have set them up as an assault course, so that children have to learn how to get from one piece of equipment to another and experiment with different ways of moving using different parts of the body. Some of the blocks are higher and some lower, some easier to navigate and some more challenging.
They're a wonderfully versatile option as they can be moved around the space at BCS and even taken away for periods of time when they need a big, open, green movement space for different types of learning.
An Adrenaline-fueled Woodland Adventure for KS1 and KS2
We then brought the woodland area to life with the installation of a super-exciting Forest School Trail.
BCS wanted their junior pupils to be able to develop their climbing and physical skills in an adapted space that would give them something to do that didn't just involve running and playing in the woods, which, although great fun, they knew could be enhanced with natural play equipment.
All this can now be achieved with their new Adventure Trim Trail, which includes:
A Log Weaver
A Swinging Log Traverse
A Mini Balance Beam
A Rope Swing Traverse
3 Stepping Logs
A Single-Sided Timber Climbing Wall
A Mini Balance Beam
A Net Traverse
An Inclined Balance Beam, and
Climbing Poles
This adventurous space will test the juniors with each of the component parts supporting a variety of physical developmental challenges including balance, lower and upper body strength, hand strength, core stability, co-ordination and gross motor skill development.
It's very much a group activity, encouraging cooperation, developing communication skills and building friendships and confidence through teamwork and fun.
"The children are so keen and excited to go outside!"…
We asked BCS how their outdoor experience has changed now that the installation is complete -
"The children are so keen and excited to go outside!" they said. "They play imaginatively in the mud kitchen area, they love climbing, jumping and creating obstacle courses with the large blocks - and it's super to see them developing their balance and core strength and exploring different ways to move and jump, which all helps with developing their gross motor skills for things like writing. They also have to challenge themselves to both analyse and to take risks. They love the climbing wall and again this builds muscle strength and is important for developing their fine and gross motor ability. The different areas are clearly defined encouraging independence and they support learning across the Early Years curriculum.
Pupils from Reception to Year 6 love the forest trail. It is so popular during playtimes but is also a lovely activity to include as part of their Learning Outside the Classroom week and their Forest School Days. The children are developing balance, coordination, problem solving, risk analysis, turn taking and enjoying being outside on fabulous equipment. They love it and we look forward to adding further equipment in the future."
Does your school playground need a new lease of life? We can help. We have developed new ways of conducting our visits and installations safely during these difficult times.
You can view our full range of products on our website. Please do Contact Us to arrange a free consultation with one of our education experts.
Alternatively, you can view all of the exciting playground projects completed for Dorset primary schools and nurseries.