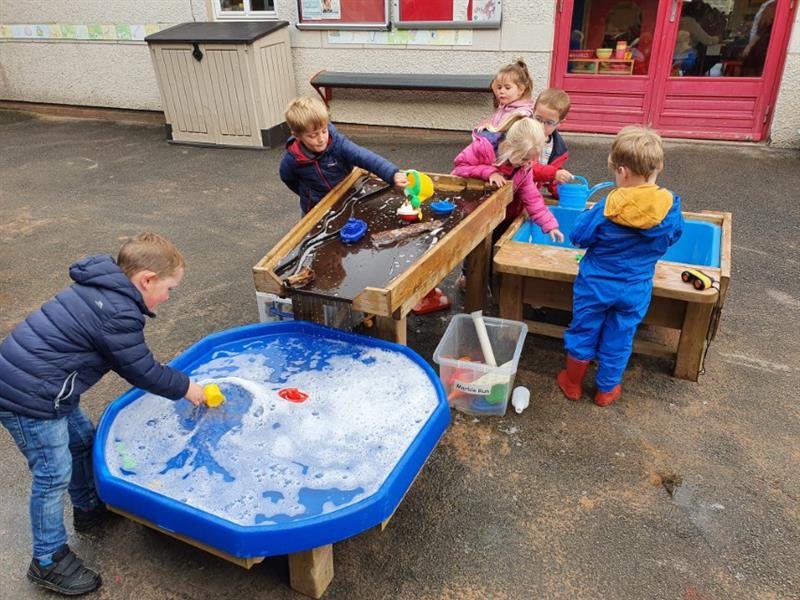 A Fun and Engaging Play and Learning Space For EYFS
After taking over as headteacher in 2019, Anna Bewsher was determined to develop Broughton Primary School's EYFS outdoor learning environment. Anna wanted the new space to provide their little learners with an enticing and functional area to learn and encourage child-led play.
Tom Benson, who is our Cumbria Outdoor Learning Consultant, met with Anna to discuss her aims and goals for the outside space.
We need to build a dam... what materials work best?
After discussing various ideas and design recommendations, the school chose to install a wide selection of imaginative and creative resources across the playground. With the chosen products, we were able to create an an open-ended and educational messy play area.
The children have already put their messy play products to good use by connecting their Water Table with our Mini Damming Station with Mini Tuff Spot Table. What materials will help stop the flow of water?
On the other side of the playground, children can carry buckets of sand over from the Sand Box to provide more dam building materials.
Building dams with the natural objects like pine cones and wood has been a favourite, along with watching boats sail down the table into the ocean below! Moreover, it is a perfect communal activity to develop little learners fine motor skills, communication, language and social skills.
A place where construction comes alive
For material exploration and communal construction play, we included our Construction Table: providing little builders with a fantastic space to explore, build, create and construct on the playground.
They love standing around the table and crafting huge towers!
Who is head chef in the Mud Kitchen?
Under an existing shelter, we've created a comfortable area for the children to bake up delicious mud pies, mud cakes and mud muffins and write down their recipes as they go!
The fabulous Mud Kitchen and Easel Table provides plenty of opportunities for cross curricular play activities as the children have fun getting messy and learning through play.
Within this stimulating space, we surfaced the area with our outstanding Artificial Grass Surfacing. It ensures the children can play in all-weathers.
Imaginative Role Play Games and Quiet Reflection
We included a Small Playhouse to ensure the children have an open-ended area for imaginative role play games and quiet refection.
Away from messy activities, children can participate in collaborative games as they transform their playhouse into a doctors surgery, shop, post office and anything else their minds imagine. This is one of the best resources for developing children's understanding of the world.
The new space has not only benefited the little learners attending Broughton Primary but also the wider community with the local church using the space for 'Messy Play Days'. It has been a big hit with the all children, parents and the community!
Are you looking at improving your EYFS outdoor area? View our huge range of playground equipment for EYFS and create your wish list.
We have developed new ways to conduct playground consultations safely in these difficult times. Complete our Online Form to begin your journey with Pentagon Play. One of our consultants will be in touch to arrange a free consultation.
If you would like to view more examples of our playground projects in Cumbria, visit our Cumbria page.