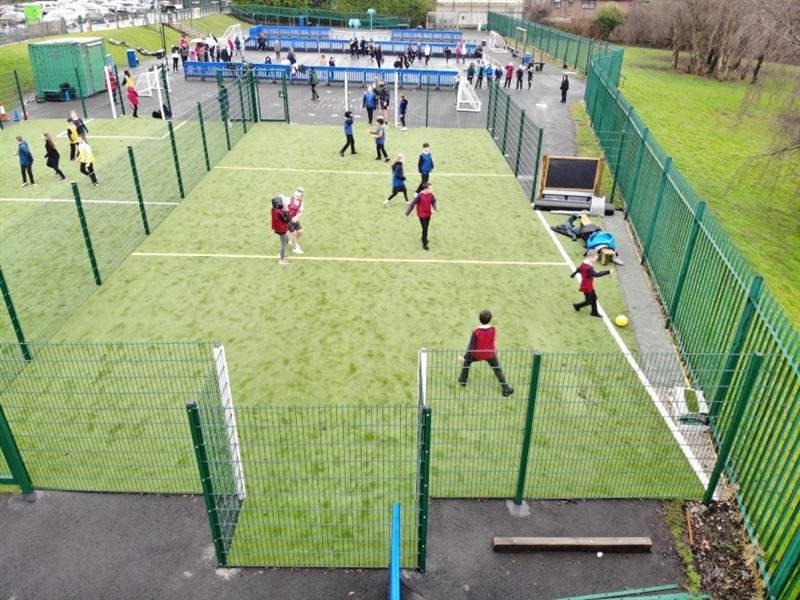 A High-Quality Sporting Provision Enhanced by Two Multi-Use Games Areas
A previous blank tarmac space has been transformed into not one, but two, multi-use games areas for the very lucky, young sports people attending Crab Lane Primary School in Manchester.
Our playground consultant, Natalie Richardson, a keen footballer herself, was delighted to work alongside the passionate staff and children at Crab Lane to enhance their already high-quality sporting provision.
The MUGA Pitches
At the end of the tarmac playground, we installed one large 19.5m x 19.5m MUGA divided into two pitches to allow more children to participate in competitive sport games at one time.
Each of the two pitches are surrounded by 2m high rebound fencing to ensure that the equipment stays in the designated areas and valuable play time is not wasted retrieving balls. PE lessons, fresh air exercise and competitive sports can be enjoyed all year round due to the all-weather Artificial Grass Surfacing!
One of the two pitches includes a centre half line marking and white goal end markings whilst the other includes third markings to ensure the widest range of sports possible can take place on the new pitches.
Hockey, hand ball, football, netball and basketball… no game is off limits and children can be introduced to a wide range of sports.
Natalie returned to the school to see the children utilising their new sporting space and was delighted to see the PE teachers and year 5 PE class embracing both of the new spaces.
The young footballers of Crab Lane are very talented, and it was fantastic to watch the children participate in their PE lesson and complete a penalty shootout!
Could your sporting provision be enhanced by installing a Multi-Use Games Area onto your tarmac playground or school fields? Contact Us Here today to begin your journey with Pentagon Play.
You can view all of the fantastic playground projects we've completed in Manchester by visiting our Manchester Projects Page Here.