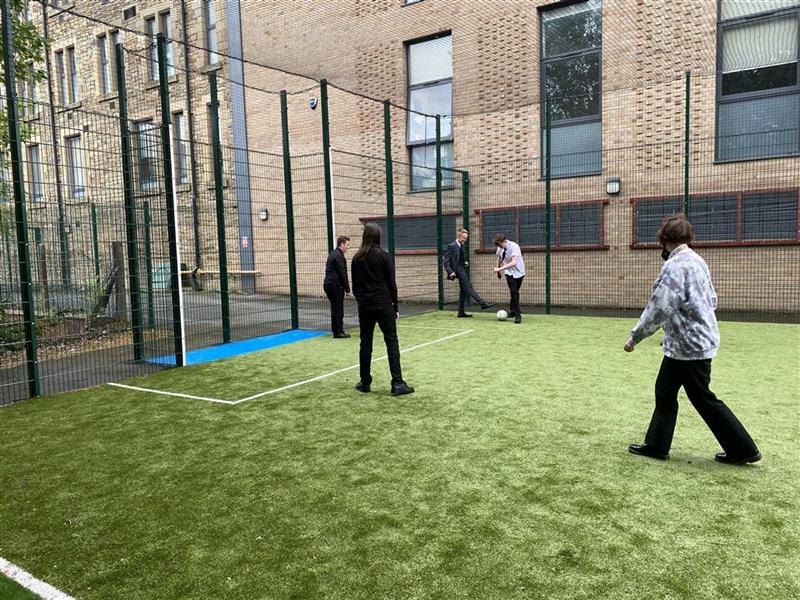 Promoting Physical Activity at Darwen Aldridge Enterprise Studio
We were delighted to work with a dynamic, innovative studio school that provides fantastic opportunities for students aged 13-19 to specialise in creative and technical digital media and care sector studies.
The studio is situated in a state of the art, refurbished premises that celebrates the architecture of the original building but has a very modern feel. Students learn in a professional, workplace environment which is something we carefully considered when designing the new, physical space.
Working in partnership with Darwen's Principal, Colin Grand, we designed and installed an outdoor area that would promote physical activity and mental wellbeing whether participating or spectating in a range of sports.
A Multi-Use Games Area for a range of sports
Central to the new design is the Multi–Use Games Area. The pitch can facilitate numerous sports including football, netball, hockey and athletics.
Darwen Studio chose our 4G Artificial Grass Sports Surfacing which is soft yet durable and allows the space to be used in all weathers, all year round.
White football markings and recessed, coloured goal ends were used to further enhance team games.
The addition of mesh fencing around the perimeter of the pitch and roof netting helps to zone the space and keeps games contained to the area.
Gates allow for easy access on and off the pitch.
The Viewing Platform
All tense sporting matches need an army of loyal supporters to cheer their team on, therefore we created a sheltered area for viewing spectators.
Located on a raised platform at the top of the outside stairway we installed a bespoke 8m x 6m timber canopy.
A selection of benches allows students to gather, have lunch and socialise on the terrace whilst overlooking the new fitness zone.
Our high-quality canopies are perfect shelters from the rain whilst still providing light and airy spaces.
Outdoor fitness equipment
Healthy lifestyles are further promoted with the installation of our 5-piece KS3/KS4 Fitness Package. The outdoor gym further enhances the Studio's sporting provision and includes:
3 bicycles
1 self-weighted rower
1 seated chest press
The range of equipment helps to improve cardio strength, muscular tone, flexibility and coordination.
Students can enjoy the benefits of exercising in the fresh air which improves emotional wellbeing and delivers essential oxygen and vitamin D to the body.
Pupils of all abilities can make use of the outdoor gym as the equipment is easy to use and resistance is provided by the user's own body weight.
Groups of friends can have fun using the equipment together, sometimes as a welcome break between study sessions.
Research shows that exercise increases cognition, especially in children and young adults. If pupils regularly use the equipment their ability to concentrate and learn can significantly increase.
We were so pleased to have created wonderful opportunities for the students of Darwen Aldridge Enterprise Studio to participate in physical activity with their peers. We hope students continue to enjoy their new, sociable spaces and lead healthy lifestyles for years to come.
If you are looking to encourage physical fitness at your school, please do not hesitate to Contact us Here and Start Your Journey With Pentagon Play.
If you are looking for inspiration to transform your playground, take a look at our dedicated Greater Manchester project page here.