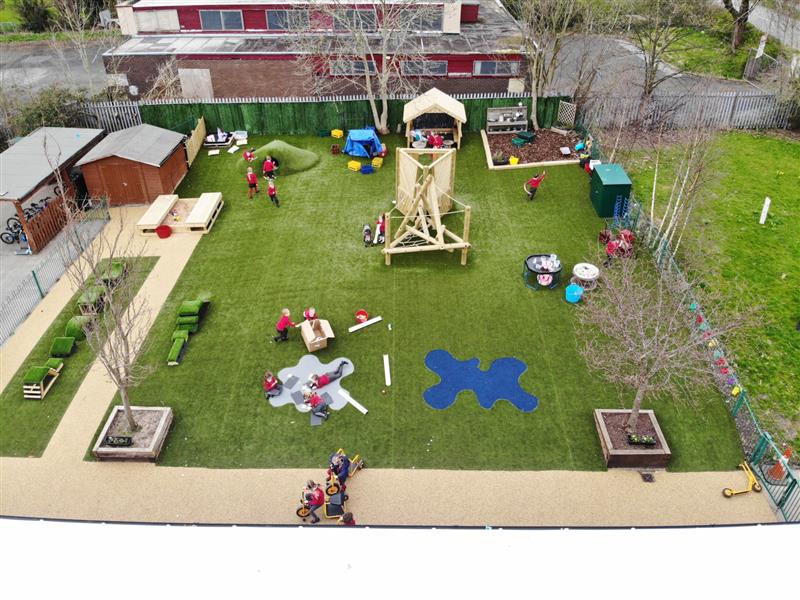 Developing Enquiring Minds with An Intriguing EYFS Playground Development
Working closely with the EYFS/KS1 team at Mill View Primary we have created an outstanding outdoor area to totally transform school life for the youngest pupils.
Our knowledgeable playground consultant, Ian Wood, met with lead teachers to carefully plan a project that encourages learning through play within nature.
One of the curriculum aims at Mill View Primary is to create an environment to enable children to think and feel and we believe this has certainly been achieved!
An area to develop movement skills
At the centre of the design stands the Harter Fell Climber with Platform and Climbing Net, which is a perfect introduction to low-level climbing that will build children's confidence.
Balance and agility will be required to make their way up the net and across the wooden beams. Care is needed not to fall off, after all there could be sharks waiting in the wavy waters below!
Underneath the platform there is a secret space which provides a wonderful spot to gather with friends, to make plans and create dens.
The installation of Artificial Grass contributes to the natural feel of the space creating a durable surface with impact absorbing landing to protect those little hand and knees!
Learn and create together with floor-based learning activites
Grey and blue safeturf splashes add pops of colour and provide a variety of options for free play.
They offer a comfortable space for small group work and are the perfect spot for outdoor daily phonics when paired with our Scribble Boards.
Active play has been further enhanced with our 'Get Set, Go!' Moveable Blocks (The Mendips Set).
They provide the children with endless possibilities to create. Through discussion and teamwork an obstacle course may be built for friends to use, which requires turn taking and sharing.
Blocks are easy to reposition and they can also provide extra seating options for circle or story time.
The immediate area outside the classroom and surrounding the 'Get Set, Go!' blocks has been surfaced with natural coloured Wetpour to create a high quality, safe pathway. The flat space is ideal for a scoot or even a wheel barrow race to the finish!
Endless possibilities for imaginative play
At the end of the path we have installed a huge covered sand box, which allows the children to climb in and feel the sand in between their toes.
They can build, dig and make marks in the sand all whilst having fun with their peers.
The sand box can be viewed when standing on top of our bespoke-built playground mound and tunnel. Playtimes can be spent climbing, rolling and sliding which develops core strength and gross motor skills.
Children will feel like Kings and Queens of the playground, surveying their kingdom.
If the children are in need of a rest we have constructed a Giant Playhouse with Walls, Chalkboard and Benches which provides the perfect shelter. The chalkboard and benches create a mini classroom feel and the house can be transformed into a range of role play areas.
One day the children could be visiting the dentist and the next a garden centre!
The installation of a bespoke timber canopy allows for free play between the classroom and the outside space. The beauty of the outdoors can be appreciated in all seasons.
Both children and staff love being outside in all weathers, enjoying their fantastic, spacious learning environment.
Is your school or nursery outdoor learning environment ready for a change? We can help! We are the UK's Number 1 School Playground Specialist. Please do Contact Us Here for a free consultation with one of our outdoor education experts.
Explore all of the stunning playground developments completed for primary schools and nurseries on our dedicated Cheshire Playground Projects Page Here.