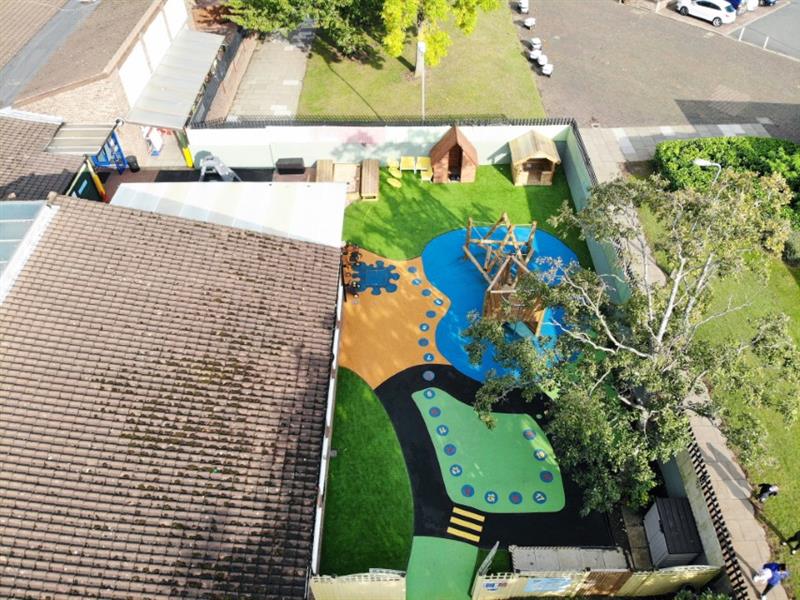 An Inspiring EYFS Playground Design For Learning Through Play
Bright and beautiful!
That's the overall impression of the fabulous new Foundation Stage playground at Portfields Primary School in Milton Keynes, Buckinghamshire.
An Inspiring Space for Outdoor Learning and Play
The first thing to notice is the landscaping. We've transformed the old outdoor space with beautiful new surfacing: a creative design that uses a combination of our Artificial Grass and Wetpour in grass green, bold blue and natural sand to create distinctive areas for the children to run, jump and "splash" between.
There are numbered "stepping stones" for numeracy on the go and playful "puddles" to fuel the children's imaginations. There's even a roadway for the children to drive around on their trikes and a pedestrian crossing to create a "real world" theme.
Our wetpour safety surfacing is impact-absorbing, so it's a great option for high-energy playground environments where children are running around a lot. Not just good fun to play on - it's kind to little limbs as they are developing and really helps to reduce the risk of injury from falls.
A Timber Canopy For All-Weather Free Flow Play
To create a truly all-weather outdoor space, we installed a charming, bespoke timber Canopy.
It has colourful, transparent roof panels that play with the light and throw intriguing patterns onto the ground below. It's a super sensory space that allows easy freeflow for learning between the classroom and the outdoors.
A Log Climbing Frame For Active and Imaginative Play Games
Standing tall in the centre of the new playground is our exciting Harter Fell Climber, featuring a look-out platform for imaginary games and den-building and a fireman's pole to add to the sense of adventure!
The children at Portfields Primary will love this log and rope climber as it's really flexible with multiple entry and exit points, allowing them to climb as they choose and independently build their climbing confidence.
Climbing is a brilliant activity for developing both gross and fine motor skills, through grab, grasp and pull actions, as children learn to balance and make their way around the climber.
STEAM Learning and Sensory Play Comes To Life
STEAM learning and sensory play have come to life in the new playground with our incredible, unique Water Wall with Water Play Package. There's plenty of fun to be had splashing away for hours!
A collaborative learning resource - the children love to build their own water channels and influence the flow of water for themselves, exploring, experimenting and sharing ideas.
A large covered sand box for digging completes the sensory play scene, while the addition of a self-selecting store allows the children to choose their own resources to play with, and to learn responsibility as they help with tidying away.
This is a really handy resource for the playground that makes set-up quick and easy - everything the children need can be safely stored close to hand.
For role play and PSE, there's a Playhouse with Walls, Chalkboard and Benches for the children to enjoy together. With threading holes for weaving and tying, and chalkboard for mark-making, it's a blank canvas for theming as the staff and children choose.
Whether they imagine a shop, a restaurant, a hospital or a fairytale den, they can really go to town and make the playground their own!
Are you looking at improving your EYFS outdoor area? View our huge range of playground equipment for EYFS here and create your wish list.
We have developed new ways to conduct playground consultations safely in these difficult times. Complete our Online Form to begin your journey with Pentagon Play. One of our consultants will be in touch to arrange a free consultation.
If you would like to view more examples of our playground projects in Buckinghamshire, visit our Buckinghamshire page.