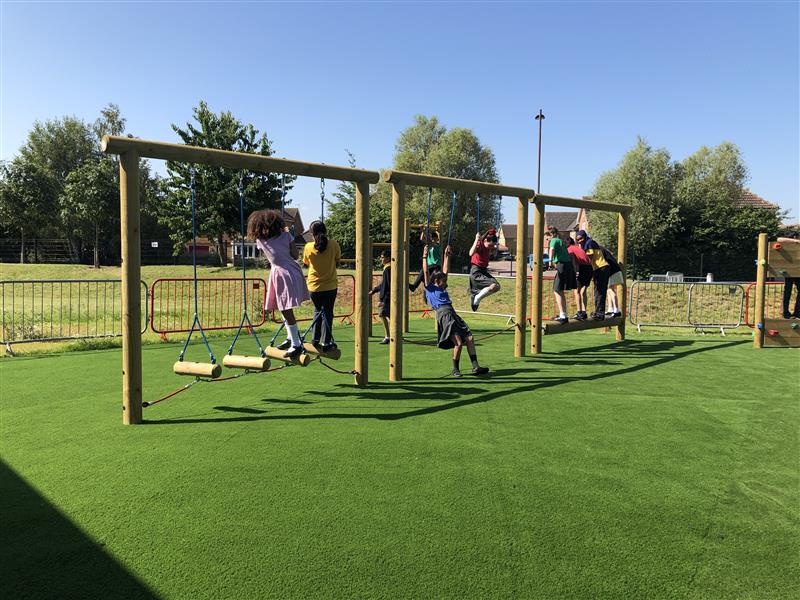 Energising Active Playground Equipment To Create An All-Weather Play Space
Great Denham Primary School has just expanded from a 1 form entry school into a 2 form entry school. This meant that they required a larger play area that all the children could enjoy.
Our sales director, Sam Flatman, worked with Great Denham Primary School, located in Bedford, to transform a section of their field into an energising, all-weather active play space. This would not only provide the children with more space in their playground, but also further promote healthy and active children.
We installed a selection of trim trail equipment along with playground markings to provide all children with something to do at playtime.
Trim Trail Equipment
As the school wanted to focus on developing the children's fine motor skills (contributing to the improvement of handwriting), we installed a challenging selection of Trim Trail Equipment that would develop the children's upper body strength and gross motor skills, along with other key physical areas.
This active selection of equipment has provided the children with a fantastic space to develop their physical skills while keeping healthy and exercising.
The children particularly enjoy the pull up bar section of the trim trial as they work on their muscular strength.
They are able to evaluate and take safe risks without the hazard of serious injury due to the impact absorbing Artificial Grass Playground Surfacing.
Having this area in place, the school have found that the children's behaviour has improved as they have high energy activities to take part in.
Playground Markings
On the tarmac playground, we installed a large selection of playground markings for cross curricular activities as well as enhancing imaginative play. These vibrant, Thermoplastic Playground Markings provide the children with a selection of creative games to play.
From classic playground games such as Hopscotch and What's The Time Mr Wolf to Targets to test their jumping and Mirror Me games, the children have plenty of games to play or vibrant markings to inspire imaginative play.
If you would like to transform your outdoor learning environment into a magnificent area for active play and imaginative play, feel free to Contact Us Here. Alternatively, you can view our full range of Trim Trail Equipment and Playground Markings.