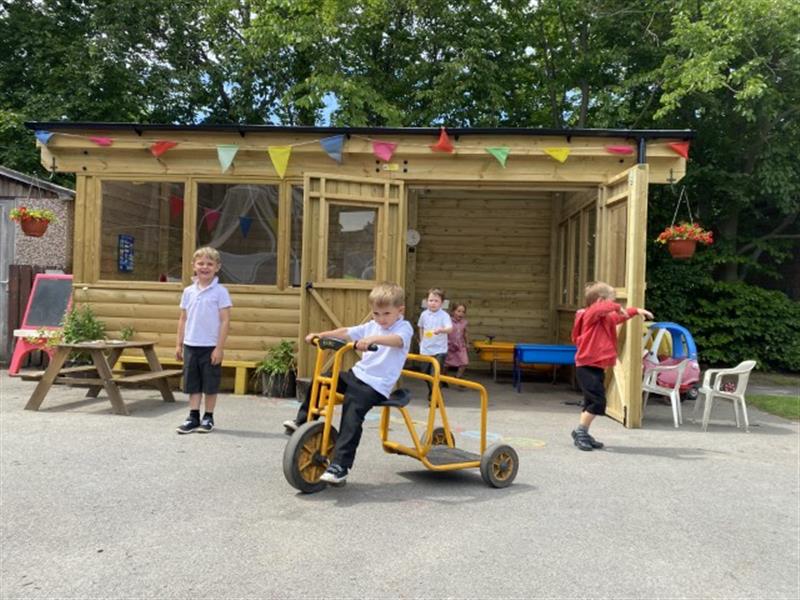 Taking the Indoor Provision Outdoors with an Outdoor Classroom
High Lane Primary School were keen to provide their reception class with an extra teaching and learning space in their playground where children were free to move between playtime activities come rain or shine.
Our expert playground consultant, Ian Wood, was delighted to work alongside the Stockport based school to create a multi-purpose, practical teaching space.
The Outdoor Classroom
To ensure the new outdoor teaching space would create a practical environment for learning through play activities, outdoor lessons and small intervention groups, we installed the outdoor classroom with a number of features including:
Lockable Double Doors to keep the space secure.
Rainwater System and Guttering to ensure rainwater can run off the roof away from the double doors and enable further learning about the water cycle
Half Round Cladding to ensure the space is aesthetically pleasing and blends into the natural environment
Windows to aid supervision of the children and allow natural light into the play space
Watertight polycarbonate roof to ensure the space can be used come rain or shine
The Reception teachers have worked hard to create an outstanding internal space for the children to play and learn within – they've added comfy corners for storytelling, mark making activities and resources that can be self-selected by the children as part of independent play.
They have even feedback that during playtime the children will go into the Outdoor Classroom and embed the topic of learning into their play!
"How Was Your Experience Working With Pentagon Play?"
When asked how they felt their experience working with Pentagon Play was, Gillian had this to say:
"Working with Pentagon Play was a fantastic experience. The children really enjoyed watching the outdoor classroom be built. It was built over a very cold winter and the installers just got on with it every day."
Are you thinking about creating a practical outdoor teaching space in your school playground? We can help! Please do Contact Us to arrange a free, no-obligation consultation with one of our experts.
Alternatively, you can explore all of the stunning playground projects completed in the Manchester area on our dedicated Manchester Projects Page Here.